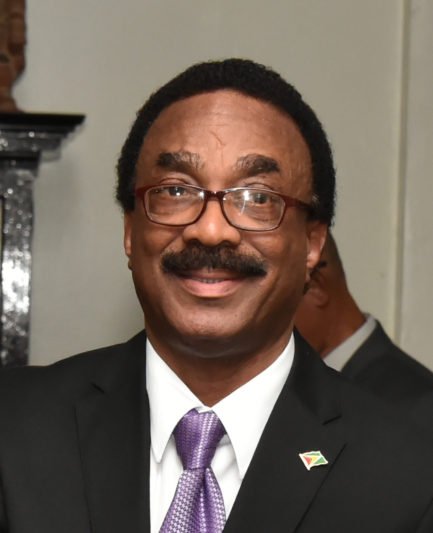 While describing Attorney General Basil Williams SC as a hard worker, President David Granger yesterday said that the dismal performance in court matters involving the government is as a result of the poor representation which dates back to the previous administration.
"I do not feel in the past that we had the best representation in some of the cases which we inherited. (they) were lost before we started because the representation was inadequate and that is a great pity. I don't want to mention case by case but if we had better representation over the years we would not have lost so much money because of certain claims made against the government so I wouldn't blame the Minister of Legal Affairs. I think within that ministry there were some persons who were not necessarily doing the best for the Government of Guyana", he said during a press conference yesterday. He was asked if he was satisfied with the manner in which the AG has been handling state cases as well as his general performance.
Granger while noting that no one wants to lose cases, stressed that one cannot always win.
"As far as I can see he is a very experienced lawyer and once you go to the courts you have to expect that the outcomes may not necessarily be in your favour…one cannot win everything", he said.
According to the president while Williams has "worked hard", on the other hand there is the team he has to work with", he said, adding that there are other cases which are pending. Granger said that the AG like some other ministers has had to make internal changes to his ministry in order to get the best quality representation.
Williams has come in for criticism over  a number of lost cases. Williams is the legal representative in all court cases involving the state.
Not only has Williams been flagged for his failure to successfully defend cases but he has been criticized for his behaviour before Justice Franklin Holder and more recently in relation to the law school fiasco.
With regards to the latter, it was recently revealed that despite Williams' utterances, the Council of Legal Education has given Guyana no permission to open a law school here.
"New Chairman of the Council of Legal Education (CLE) Reginald Armour of Trinidad and Tobago is relying on a report of a Review Committee which included former Chancellor Carl Singh, to now say that the CLE never gave permission to Guyana to establish its own Law School after decades in the belief of the Guyanese legal fraternity," the AG's Chambers had said in a five-page statement.
Armour subsequently said that he has written Williams for a copy of his release as based on a Sunday Chronicle report it contains noteworthy inaccuracies, which he will respond to once Williams provides the release.
Former Chancellor Singh has since rebuffed several of Williams' claims.
Around the Web