A construction worker was on Thursday evening robbed of his Toyota Premio motorcar and assaulted by a lone gunman shortly after arriving at his brother's East Street, Georgetown premises.
Gary Samaroo, a resident of Ogle, East Coast Demerara yesterday told Stabroek News that as is customary every day, he was going over to visit his brother at his East Street house on Thursday when he was attacked just after parking his motorcar, PRR 8905.
The incident he said took place about 7.30 pm. "Where my brother house situated there is an alleyway to get there, so I just parked the car and come out when a man appeared from nowhere and grabbed me by my shoulder", Samaroo said.
At the time, he said he was on his cell phone which the bandit also snatched out of his hand. "I turn around and he grabbed my phone so I snatch back my phone and he hit me to my face with a silver gun he had on him", Samaroo further explained.
The gunman, according to Samaroo then ordered that he hand over the keys to the car while threatening to shoot him. He said, "he tell me if I don't give the keys he will shoot me, so I just do what he say and he back to back pointing the gun to me and he went in the car and drive away".
An alarm was raised and a report was made to the police.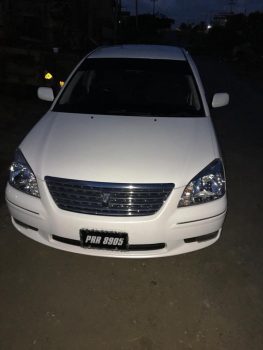 Samaroo is pleading with anyone who might have any information which may lead to the recovery of the car to contact him on telephone number 627-1017 or the nearest police station.
In recent times, there has been a rise in hijacking cases with around one every day.
The Guyana Police Force had previously warned the public, specifically taxi drivers operating the Toyota Allion and Toyota Premio models, to be on the alert for potential hijackers.
The mode of committing the crime, the police have observed, is for persons to hire cabs around Georgetown for destinations such as North Ruimveldt, Georgetown; Atlantic Ville, East Coast Demerara; Providence, East Bank Demerara; and West Demerara and rob the drivers of their personal belongings and their taxis upon arrival at the requested destination.
Crime Chief (Acting) Paul Williams had previously disclosed that the Guyana Police Force has embarked on an operation to target carjackers and will zoom in on body workshops since they are suspected to be the buyers of stolen vehicles parts.
Williams had also noted that the police force has collaborated with several other agencies and the owners will now have to meet certain requirements before they can operate the workshops.
"What we have recognised too is that the cars that are being hijacked or stolen now are the cars that find themselves outside of the GRA (Guyana Revenue Authority) stipulated requirement ", he had said. As such, Williams noted that it has been observed that offenders targeted cars that are no longer imported in the country and stripped them to parts which they sell.
Around the Web