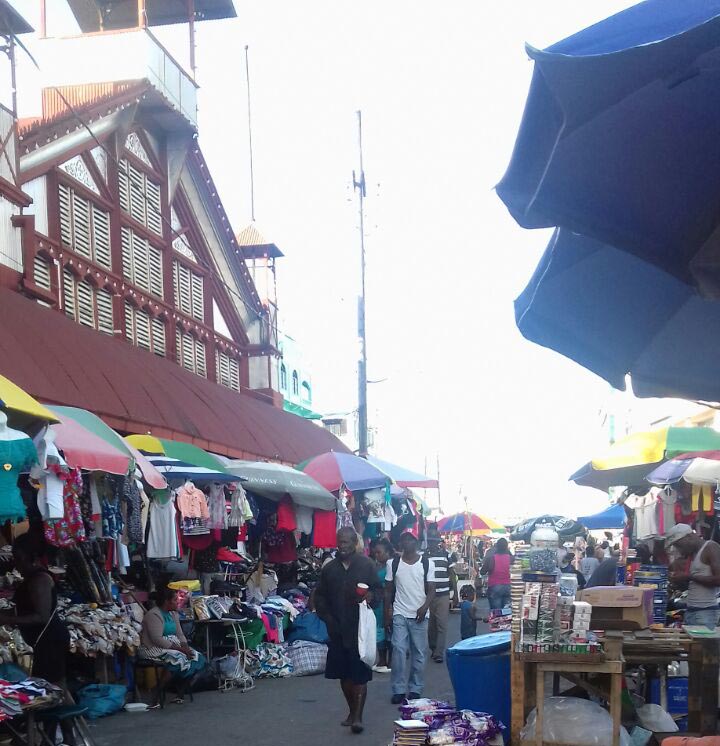 If you encountered the Sunday crowd in downtown Georgetown yesterday, you would have been forgiven for believing that the weekend had ended early.
But even with the volume of parked cars and the scores of people on foot, vendors affront the Stabroek Market and on the Regent Street paves still complained of poor sales.
Perhaps it was that passers-by were simply not shopping what they were selling—shoes, clothing and toys mostly—or maybe it was one of the many other theories that abounded: that business has just been slow lately, that many were simply window shopping or purchasing last minute Christmas decor, or that "people going in more than they're out".
The latter was said in reference to all the open stores along the route, specifically the Chinese stores that compete with the roadside vendors.
"You see everybody sit down?" one vendor at the Stabroek Market said, opining that perhaps when persons were paid sales would improve.
"What?! Nah. People get pay already? When they get pay?" she questioned in alarm after being told that they had. "This is deadstock. Nah, it ain ready. For me it ain ready," she commented.
"Sales slow, because the market open and all the stores open also," Shanella Holder, a shoe vendor stated. She recalled it being the same situation last year, but opined that last year's sales around this time were better.
This sentiment was repeated by vendors selling varying merchandise in front of the market square.
Some along Regent Street shared the same view, but there were the few that had actually experienced the luck of the sales.
The coconut vendor at Regent and Wellington, who also has a spread of toys laid out for the Christmas season related that his sales yesterday had been good. But he added that his sales are always good.
"What sales is like is what you make of the day. What you put into the day you get out," another vendor, Narine Singh said. Singh's lineup of goods included toys and phone accessories, but he related that it was the extension cords, which he makes himself, that had pulled the crowd for him yesterday.
Around the Web