A South Ruimveldt labourer yesterday succumbed to injuries he sustained after being involved in an accident on Vlissengen Road.
Desmond Grandsoult, 42, a father of three, resided at lot 1710 Dedication Place, South Ruim-veldt Park, Georgetown.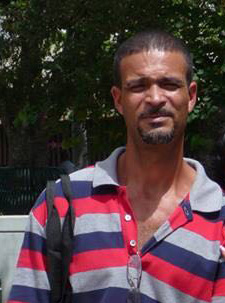 Police yesterday said that at about 8.45 am, minibus BTT 8476 was being driven by Jamal John when it collided with Grandsoult, a pedal cyclist who was proceeding in an eastern direction. The police said that from investigations the victim rode in front of the minibus in an attempt to cross the road. The left front side of the bus crashed into the rear of the bicycle and as a result of the impact, Grandsoult fell onto the road and was run over by the said mini bus. Following the collision, the driver lost control of the bus and it landed in the trench on the western side of Vlissengen Road.
Grandsoult sustained serious injuries and was rushed to Georgetown Public Hospital (GPH) in an unconscious state.
Five passengers from the minibus, police said suffered minor injuries and were treated at the GPH and sent away.
The driver reportedly fled the scene and checks made for him at the public and health institutions within the city came up empty handed.
The family of Grandsoult said he worked as a maintenance man for people and they are unclear on the details of the accident. They noted that what they know of the accident is what was related to them by eyewitnesses on the scene.
A relative stressed that doctors were unable to perform any surgery on him since he was unresponsive to medical treatment administered. They noted that he passed away sometime around 4.30 yesterday afternoon.
Around the Web