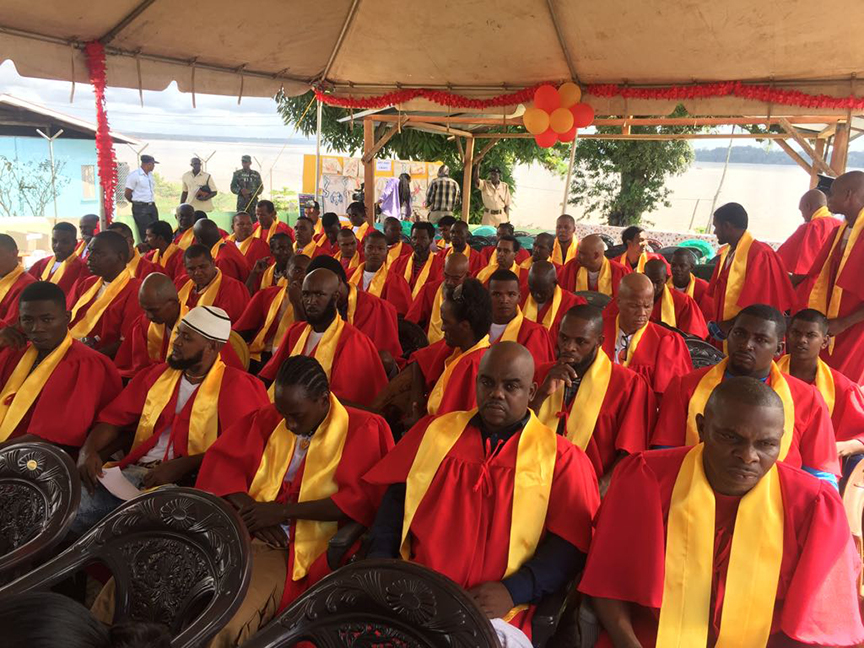 One hundred and twenty inmates housed at the Mazaruni Prison (Cuyuni/ Mazaruni)  were yesterday morning recognized after successfully completing a three-month training course in various programmes aimed at preparing them for the world of work.
Among those who graced the stage all decked out in their gowns were high profile and special watch inmates. Convicted and remanded prisoners were also given an opportunity to participate in the training areas such as burning of charcoal, landscaping, fishing, tailoring, art and craft, culinary arts, chronic illnesses, literacy & numeracy, joinery and block making, domestic violence awareness and veterinary science.
The training was largely financed by the private sector bodies in Bartica and also focused on creating behaviour change.
The graduation ceremony was held at the Maza-runi Prison Children's Play Park and was attended by Director of Prisons (ag) Gladwin Samuels; Officer-in-Charge of the Mazaruni Prison Alexander Hopkinson; Regional Chairman Gordon Bradford; Chairman of the Mazaruni Prison Visiting Committee Samuel Dasraj and Officer in Charge of the Bartica Police Station, Assistant Superintendent of Police Shivbarran.
Samuels during his feature address said that the prison houses a total of 452 inmates, 26.5% of whom graduated yesterday. He described this as a great precedent which he said was set by the administration.
"The truth is, everyone is somebody by default, and no one can really get lost in the crowd unless he chooses to become lost", Samuels told the graduates while reminding them that their success is also that of the Guyana Prison Service, and by extension, the nation's. "The monies spent on training are considered monies well spent when you leave here better prepared to serve your community and you do not re-offend", he said.
He explained that the prison has an obligation and mandate to provide prisoners with skills to facilitate their reintegration into society while adding that the prison's task is to help the inmates realise their mistakes and become better individuals. "We want to equip you with skills needed in society. We want to help you to develop the attitudes that will make you employable", he said.
According to Samuels, efforts are also being made to have the certificates awarded to the inmates recognized beyond Guyana. "I urge you to see your certification as your ticket to improve your life and impact positively on all those with whom you come into contact", he said.
"As human beings, we have a natural tendency to dwell on our shortcomings, and we often forget about the talents we have been blessed with. We need to utilize them to the best of our ability and share them with those around us", Samuels urged the graduates.
He explained that the planned expansion of the Mazaruni Prison will not only cater for cells and dormitories but also adequate consideration will be given to the rehabilitative needs of offenders. "Therefore, our budgets will continue to seek the required funding for the construction of more trade shops, more classrooms and increased facilities with the necessary equipment so that you may be meaningfully engaged during your period of rehabilitation", he noted.
Meanwhile, Hopkinson during his remarks said the initiative will be an ongoing one which will be improved in the coming years with the addition of programmes such as anger management, agricultural science, electrical installation and plumbing.
"My job as the officer-in-charge is to ensure that the inmates are rehabilitated and return to society as a different individual", Hopkinson said while noting that the training will see the inmates as self-sufficient and marketable individuals.
The graduates were all presented with a certificate in recognition of their successful participation. However, for each programme, a medal was awarded to a participant who was the best graduating student and most improved student.
A prison officer also received a certificate for conducting the charcoal training.
Following two years of deadly unrest at the Camp Street prison which saw 17 prisoners dying in a fire in 2016 and most of the facility being flattened by a conflagration earlier this year, more attention is now being placed on rehabilitation of prisoners and reducing the level of frustration in the prisons. Dozens of prisoners from the Camp Street facility have been moved to the  Mazaruni facility. Major expansion works are set for the facility.
Around the Web