The Guyana Police Force is currently engaged in a massive search to locate two prisoners who escaped from the Golden Grove Police Station on the East Bank last evening.
A third, Wayne Gilbert was handed over to the police by his father just before midnight.
A statement from the GPF last night said that the men escaped via an opening on the western wall.
"A piece of metal believed to have been broken off from the lockups door and used to break the wall was found," the statement adds.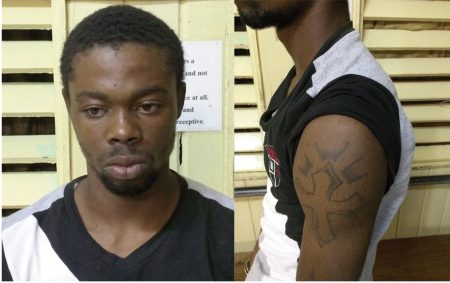 The escapees were identified as Gilbert, Derrol James and Ivre Hooper
Gilbert, 25, of 30 West La Penitence was expected to appear in court tomorrow for the murder of Rawle Rodrigues which occurred on January 20 last at Stabroek Square.
James, 22, of 131 Middle Walk, Buxton  was arrested for a series of armed robberies while Hooper,25,of James Street, Albouystown was in custody for simple larceny.
Further, a subordinate officer who was in charge of the shift, has been placed under close arrest as an investigation into the circumstances surrounding the escape has begun.
Stabroek News was told that Gilbert's father handed him over to the police at the Brickdam Station at  23.50 pm last night.
This is the fifth time this year that prisoners have escaped custody. On July 9 six inmates escaped from the Camp Street Prison while it was consumed by fire. Later that month 13 inmates fled from the Lusignan Prison pasture where they were being held after the destruction of Camp Street.
In September convicted prisoners Vijay Sanchara escaped from the Mazaruni Prison. The 31 year old was at the time serving a seven-year sentence for attempted murder when he escaped. Another escape occurred one month later when Dellon Blake escaped from lawful custody at the Lusignan Prison on October 04, 2017.
Around the Web