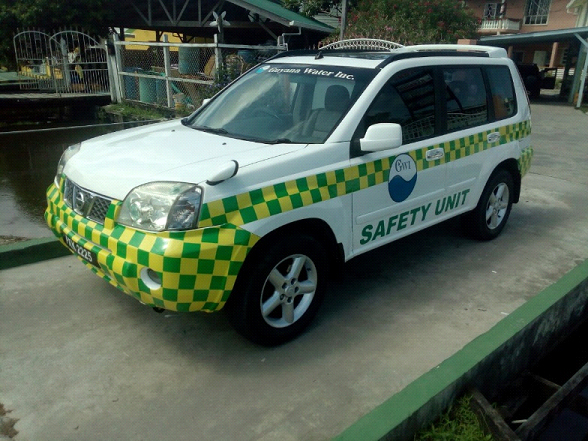 Facing the accusation that it had painted one of its vehicles in the bright green and yellow of the governing coalition, the Guyana Water Inc (GWI) yesterday said that the colours on its Safety Unit vehicle are to warn against potential hazards.
"The Safety Unit Officers' vehicle is a reflection of the continued commitment of the Board of Directors and Senior Management of the Guyana Water Inc., to promote and improve Occupational Safety and Health within the company and Guyana," GWI said in a statement.
In the release, which was sent out last evening, GWI defended the decision to employ the use of yellow and green on its Safety Unit vehicle, after a news item in the Guyana Times yesterday titled "Colour Branding Continues – GWI vehicles being repainted".
The company further stated that it wished to "make it unequivocally clear" that the colours chosen were in accordance with the International Organisation for Standardisation's (ISO) colour coding for health and safety.
"The company is committed to continuous improvement of safety and health in all of our workplaces and to the safety and health of our employees and the public at large. The Safety Unit Officers, by virtue of their profession, are often required to work in potentially hazardous work environments such as at street and road works sites and on busy highways. The visibility of the vehicle is an essential tool to both alert others in the vicinity of the potential hazards and to advise them to exercise caution," it stated.
The statement added that the level of exposure and potential injury is minimized by use of the label.
When contacted to clarify which section of the ISO was referenced to inform the decision, GWI's PRO Leana Bradshaw related that that information was not available at that time, and would be  provided today.
Colour branding is an issue that has been cropping up since 2015, with government being accused of branding public buildings and vehicles in the APNU+AFC party colours, yellow and green. The decision to repaint State House in green has been the most recent of such occurrences to be publicized in the media.
Around the Web