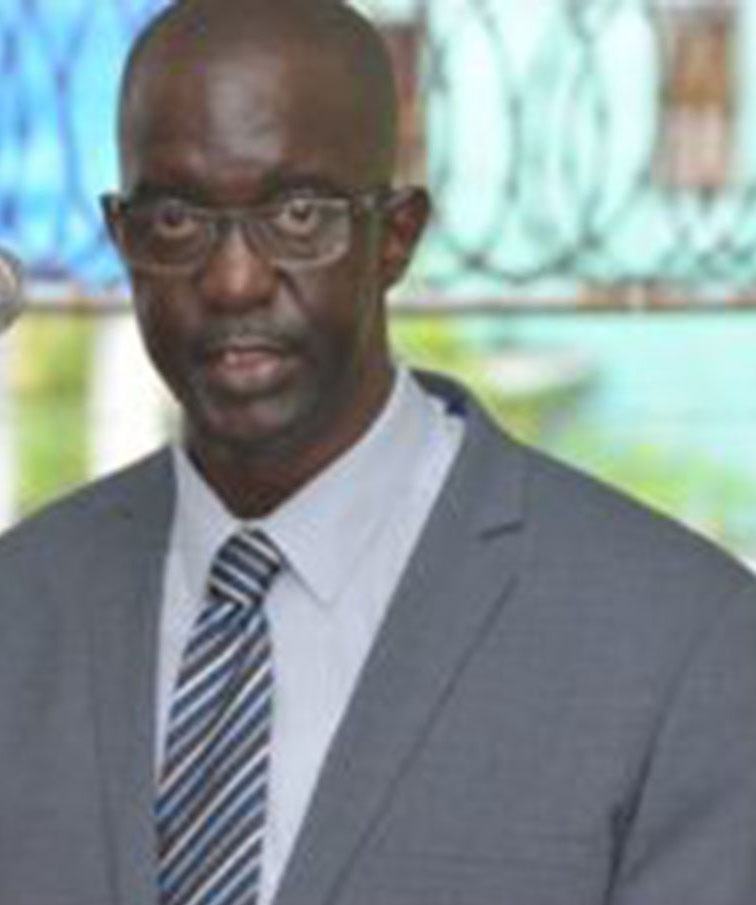 With over 32,000 backlogged land applications, the Guyana Lands and Surveys Commission (GLSC) is moving towards digitizing its records with the hope that this would accelerate the process of acquiring lands and ease squatting.
Commissioner of the GLSC Trevor Benn made this announcement yesterday at the organization's end-of-year press engagement as he highlighted some of the challenges faced this year. Labeled as "chief" among the challenges, Benn said that squatting is often encouraged by the local authorities who are "known for giving them [citizens] approval to squat on embankments, to squat on reserves, to squat on government lands set aside for whatever purpose…" .
"…So we are trying to push back a little on that at the moment. You may have seen in the newspapers a number of ads about squatting and in 2018 we will try to work a little harder to enforce that," Benn said.
However, even though squatting is a persistent problem that continues to plague the Commission, Benn said that it is as a result of the process for acquiring lands being too longwinded. He noted that there are currently more than 32,000 applications in a backlog dating back to the 1980s. The number, he said, increases daily due to new applicants.
"I am not giving them permission, we are not allowing them to squat because we will be going after them soon but the process is too longwinded. Imagine waiting since the 1980s for a lease. Five years, ten years for one lease and so we have to change that," Benn noted, while stating that it is the aim of the GLSC to have a three-month turnaround period for persons applying for land. This, he said, can be accomplished as the Commission continues working towards digitizing its records.
"It doesn't give you the right to squat because the law is very clear that you should not squat but we understand some of the issues that lead to squatting. People are desperate and they want someplace to live and the government system has not created the momentum for the speedy development of new housing areas, so we have to try our best," Benn said, while pointing out that the Commission does not have all the tools at their disposal and is "poor".
Benn emphasized that the fact that the Commission is so "paper-based" they are often faced with difficulties when it comes to accessing important information from old documents.
"We have to go through tonnes of files to get information and sometimes it takes a while. The Commission is highly paper-based and many of our records date back to the 1800s and some of the documents are so brittle that you cannot even handle them. We have to engage in a digitizing exercise which requires certain kinds of equipment that we are still to acquire," he said.
However, he indicated that US$14.8 million that was obtained from the Government of Norway under the GRIF (Guyana REDD+ Investment Fund) will be used to assist with overcoming some of their challenges.
"We need a lot more funding and resources and that is why we are happy to get the US$14.8 million but again people hear that but it's really a drop in the bucket," he said, while emphasizing the Commission's lack of resources such as vehicles and other equipment.
Another issue that plagues the GLSC is the challenge of non-performing leases. These relate to leased lands that are not being used for beneficial purposes or the lack of payment of rent. This, Benn noted, will be pursued aggressively by the Commission and they will be reclaiming lands to reallocate to persons who will put them to better use.
"It seems as though it has become a pastime for people to apply for land because their neighbour has applied but not because they are ready to do anything with it or have the means, and so we have a number of these non-performing leases," Benn said. According to him, records so far indicate that 40% of leases are currently non-performing due to the lack of payment of rent or as a result of not having been put to beneficial use, costing the GLSC millions annually. Subletting of leases without the requisite permission is another issue the Commission will be addressing.
Another challenge that the Commission continues to face is insufficient resources being available to open and develop new areas for various land uses. Benn explained that they have been unable to open any new areas for distribution since the late 1960s and are looking to develop new areas similar to the Linden-Soesdyke area so that people can have access to lands.
Around the Web