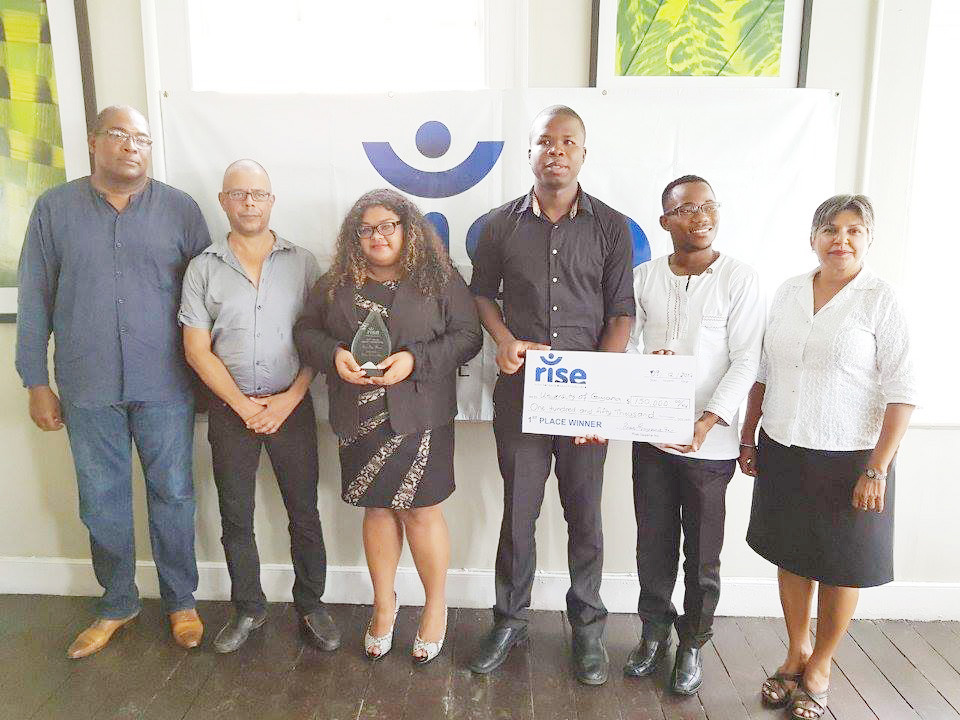 Team University of Guyana (UG) with 123.6 points, edged out Team Bishops' High School (BHS) with 118.5 points, to win first place in the finals of the RISE Guyana Youth Debate Competition on constitutional reform, held on Saturday, December 9, 2017, at the Georgetown Club.
Recently formed civil society group Reform, Inspire, Sustain and Educate (RISE) has been advocating for constitutional reform.
Debating the moot: "Guyana should have a First Past the Post (FPTP) rather than Proportional Representation (PR) System," and arguing in favour of PR, a RISE release said that Team UG presented a sufficiently strong case to clinch the first prize of $150,000 and the Hughes, Fields & Stoby Plaque. 
Team BHS gained the second prize of $100,000 along with the Cameron & Shepherd Plaque.  Third place winner, Team Dynamic, of Linden, received $60,000 and a plaque, sponsored by Ede Tyrell.
The competition, which began on November 12, 2017, focused exclusively on constitutional reform and featured teams from Georgetown and Linden.  Led by RISE Guyana's Youth Coordinator, Elson Low, the initiative enabled a platform for youths to make their voices heard on, and to encourage their participation in, the constitutional reform process.
RISE Guyana thanked the judges in the contest: Nigel Hughes, Sadie Amin, Marcel Gaskin, Azeena Baksh, Sanjeev Datadin, Kashir Khan, Asa Stuart Shepherd, Roxanne Myers, Shameza David, Nadia Sagar, Renata Chuck-a-Sang and Elson Low.
RISE Guyana described itself in the press release as a group of free-thinking, post-racial, individuals who have decided to put Guyana and Guyanese first.
"We believe that Constitutional Reform is critical to achieving: Executive accountability, Racial harmony and Political, economic and social inclusivity. RISE Guyana has no political affiliation", the release said.
Around the Web