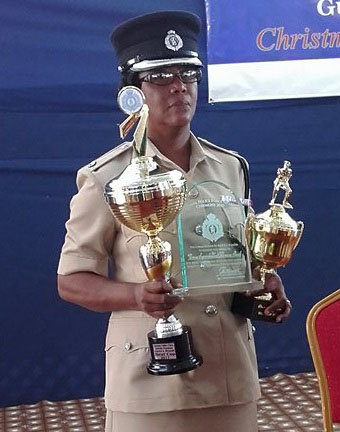 The Guyana Police Force  (GPF) yesterday acknowledged Superintendent Charmaine Stuart as its best overall cop for this year during its annual awards ceremony.
Stuart, who has been a member of the GPF for 28 years, received the overall Best Cop award for her stellar performance in the force, making her the first female member of the GPF in recent history to secure it.
Stuart holds several positions in the GPF. She is the Force's Director of Music and Culture, the Chairman of the Joint Services Committee, Vice President of the Guyana Association of Women Police and the Coordinator of the Force's Literacy and Debating Society. She was described as someone who goes above and beyond the call of duty. Noting her service in multiple supervisory positions, Stuart was described as a shining example of literacy, good etiquette and consciousness and as someone who could be reached on weekends and even holidays.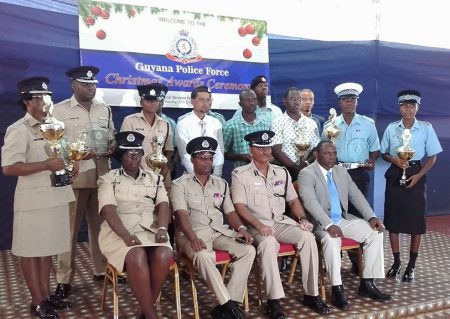 She was presented with a trophy, a plaque, $250,000 for the overall force Best Cop award, along with a trip for two to Aruba, Kaieteur Falls, and Arrow Point and dinner at Duke Lodge.
Stuart was also awarded Best Cop for the GPF headquarters and received a plaque and $100,000. These were presented to her by Acting Commissioner of Police David Ramnarine.
During her vote of thanks, Stuart gave thanks to God for his continued guidance, while extending special gratitude to the acting Commissioner and his team, along with the ranks under her charge for the support given to her this year.
The Best Cop runner-up  prize was secured by Sergeant 19499, Garvin Boyce, who copped the Division's Best Cop award for `A' Division. He too was presented with a trophy and $200,000.
Monetary incentives were also given to Divisional Best Cops, the Force's athletes and sport personalities, and ranks who worked throughout the country in solving and making arrests in high-profile cases.
Ramnarine, during his remarks, lauded the awardees. He noted that though there has been improvement in the work conducted by the force there is much more work to be done.
Around the Web