Firing shots, two bandits waylaid the manager of Yokohama Trading at Middle and Carmichael streets  at about 7.10 PM yesterday and robbed him of $1.4M.
Deepak Balradj was not wounded by the gunfire and made a futile attempt to flee the bandits during which he crashed into a car which was nearby.
The hair-raising attack in downtown Georgetown is part of a spate in recent weeks that have seen around a dozen vehicles hijacked and brazen robberies. The bandits have operated with impunity and appear not to be concerned about the police.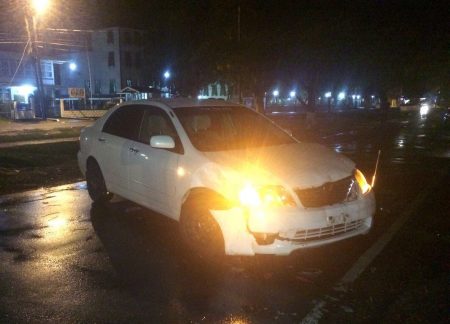 According to information reaching Stabroek News, Balradj had left his head office in Kingston and drove east along Middle Street, turning right onto Carmichael Street. It was then two men armed with guns pounced on the car.
Police last night said that Balradj was in the company of Davendralall Ramlall when a silver-coloured Premio, drove past them and blocked their path.
The bandits then exited the car and approached Balradj's vehicle, PVV 7514  and started to shoot at the car. In a bid to dodge the bullets, Balradj reversed and crashed into PSS 77 that was approaching Middle and Carmichael streets.
After coming to a stop due to the crash, the bandits then confronted the victim and relieved him of $1,462,000 cash that was in his pockets and glove compartment. They escaped south on Carmichael Street.
"They stop the car and open he door and I see a little tussle and then I hear couple gunshots," an eyewitness who was in PSS 77 explained.
The eyewitness related that when they saw what was happening they thought that the driver of the car had made a mistake and was reversing to turn the corner.
"We didn't know what was going on exactly until we see the guns and hear the gunshots and the car start reversing," the eyewitness said, while explaining that in a bid to escape from the bandits, Balradj reversed his car straight into the white car that was several feet behind on Carmichael Street.
"My husband saw the car coming back fast and he couldn't have done anything so he put his hand across my face to block the impact," one of the occupants of the white car said.
The woman explained that after they realized it was a robbery and there were gunshots being fired she along with her husband exited the vehicle and ran towards the Woodlands Hospital where her husband was  treated for minor cuts.
At the scene, moments after the robbery, heavily armed police showed up and cordoned off the intersection.  One 9mm spent shell was recovered at the intersection of Carmichael and Middle Sts and one .380 live round was found on the floor of the victim's car.
Around the Web