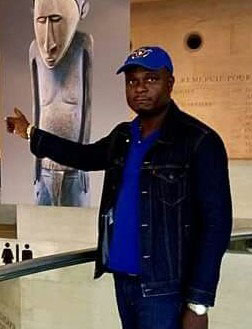 A suspect who was taken into custody for the murder of French Guiana-based Guyanese clothing vendor, Purcell Moore Jr, has admitted to the crime, acting Crime Chief Paul Williams said last night.
Williams told Stabroek News that during interrogation the suspect admitted to being in the company of others and committing the crime. He explained that the matter is still being treated as a robbery due to the evidence gathered.
Williams said that a chain that Moore had on was found next to his body. He added that they are still in pursuit of another suspect, Wayne Chester, 20, of Friendship, EBD and other individuals.
Moore is suspected to have been shot at least three times; once in his abdomen and twice in his head. He was rushed to the Diamond Hospital where he was pronounced dead on arrival.
He was attacked around 7 am, at Old Road Craig in the vicinity of the 'short cut'. He was not far from his parents' home.
Moore arrived in Guyana about two weeks ago to spend the holidays with his parents and other relatives.
Reports revealed that he was returning to his parents' Lot 28 First Street, Craig, EBD house when he was attacked by three bandits, who attempted to relieve him of the gold chain he was wearing.
Moore reportedly attempted to fend off the bandits and was shot in the process. He subsequently collapsed and the men fled the scene.
Two spent shells of a small calibre weapon were recovered at the scene.
Moore lived in Cayenne with his wife and two children.
Around the Web