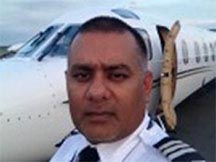 Facing trial on new money laundering and drug trafficking charges in the US state of New Jersey, the Guyanese pilot whose plane was found to have a large amount of cash on board during a 2014 stop in Puerto Rico has won bail but has had to pledge two properties to secure it.
According to court documents seen by Stabroek News yesterday, Khamraj Lall has won bail. According to court documents made available yesterday. His bond was set at US$1m secured by two properties. A third party custodian also had to be approved by pretrial services and he will have to be incarcerated in his home with electronic monitoring. He also has to surrender all passports and travel documents and cannot apply for new travel documents. Travel has been restricted to New Jersey and he has to surrender his pilot's licence.
The two properties in question are 11 Sky Top Ridge, Oakland, New Jersey and 139 Fountain Drive, Ringwood, New Jersey.
Justice Steven C. Mannion had in October this year  denied Lall's request for bail after a review and a bail hearing based on an application he had made through his lawyer, where the primary arguments were that he is not a flight risk or a violent person.
After he had pleaded guilty to bulk cash smuggling, Lall was sentenced in 2016 by US District Judge Jay A. Garcia-Gregory to one year in prison and his private jet and over half a million US dollars seized from him were forfeited to the US government.
At the time of his sentencing, Lall also faced charges both in New Jersey and in New York for alleged money laundering and drug trafficking.
While he was defending the charges in New York during the year he was incarcerated, the cases in New Jersey had not progressed. However, in August of this year, the prosecution in New Jersey filed a new indictment, this time charging Lall with four crimes. He is now facing a conspiracy to launder money, conspiracy to structure funds, conspiracy to import cocaine and conspiracy to distribute cocaine, all allegedly committed between April, 2011 and November, 2014.
Following the filing of the new indictment, which also included a new forfeiture application, the charges in New York were discontinued since the prosecution acknowledged that they were similar to the ones he now faces in New Jersey.
Though he piloted former PPP/C President Donald Ramotar among other PPP/C functionaries, the party has distanced itself from Lall's woes.
In March 2016, Lall had been sentenced to one year in jail and had been ordered to forfeit his private jet and over half a million US dollars involved in the cash offence to the US government.
US District Judge Jay A. Garcia-Gregory imposed the judgement. Lall had faced one count of bulk cash smuggling into or out of the United States. He pleaded guilty to the charge last year.
Lall's case had highlighted his close links to the former PPP/C government. He had been granted permission to construct a private hangar at the Cheddi Jagan International Airport (CJIA) and had flown then president Ramotar on official trips on several occasions. These reports triggered consternation and questions as to what due diligence had been carried out on him before the decision was made to assign him a private hangar.
The saga began in San Juan, Puerto Rico on November 22, 2014 during a refuelling stop en route to Guyana.
According to court documents seen by this newspaper, on November 22 at 6pm, Lall and two other persons arrived at the Luis Munoz International Airport, San Juan on a private aircraft. He was the co-pilot of the aircraft and the other persons were the pilot and Lall's father. When approached by customs officials the occupants informed that they had stopped for refuelling purposes and would be departing immediately for Guyana. However, it was explained that an outbound inspection of the aircraft would be performed.
The trio was told of the currency reporting requirements and Lall and his father declared US$5,000 and the pilot declared US$60. However, while searching the aircraft with the assistance of a sniffer dog officials found that there were some discrepancies regarding the maintenance with the aircraft, in violation of aviation regulations and the aircraft was grounded. Lall then informed that he would have flown in his mechanic to take care of the mechanical issues and the following day he informed officials that the problems had been rectified and the aircraft could be re-inspected.
Before the search continued, Lall varied his declaration. He declared US$7,000, his father US$5,000 and the pilot US$60. However, as officials continued the search, a sniffer dog alerted them to the presence of money and a further inspection revealed a bundle of currency, wrapped in plastic bags and a blanket under the exit row seat. Approached, Lall immediately claimed ownership of the money and said that it was approximately US$150,000 which constituted proceeds from his business. He said that he had forgotten he had the money in the plane and gave such reason for not declaring it. Officials continued to search the aircraft and later discovered a black suitcase inside a compartment next to the engines which contained several black garbage bags with bundles of currency totalling US$470,000. Lall again accepted responsibility and ownership for the money and informed that his pilot and his father had nothing to with the monies and that all belonged to him.
He was then arrested and charged.
Around the Web