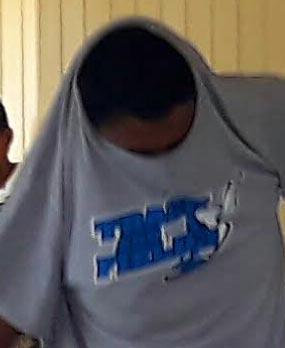 A Corentyne farmer was yesterday remanded to prison when he appeared at the Springlands Magistrate Court and was slapped with eight charges related to the robbery of a supermarket in Number 68 Village, Corentyne, Berbice last Saturday evening.
Dinesh Lakhram, 23, a farmer of Number 68 Village, Corentyne, who was represented by Attorney-at-Law Chandra Sohan appeared before Magistrate Rabindranauth Singh.
The farmer was also charged with discharging a loaded firearm at Devi Singh, Akash Persaud and Police Constable 23745, Michael  Saul while in the company of others with the intent to maim, disable, disfigure or cause actual bodily harm.
He was also charged with robbing Michael Saul while in the company of others of one gold chain worth $130,000, three gold rings worth $200,000 and US$1500, a total of $846,000.
Lakhram was also read the charge of robbing Raj Beharry with an offensive weapon of one Alcatel cellphone costing $25,000.
Additionally, he was charged with gaining entry to the house of Akash Persaud with an offensive weapon and robbing him of $55,240 worth of GTT and Digicel phone cards, one J2 Samsung Galaxy cellphone worth $25,000, two Alcatel cellphones worth $40,000 and $234,000 cash.
Lakhram was not required to plead to those charges.
He pleaded not guilty to damaging one car fender the property of Michael Saul.
Police Prosecutor, Orin Joseph objected to bail, while noting that the accused was found in possession of a haversack which contained cash and cellphones belonging to Akash Persaud.
The prosecutor also told the magistrate that at the time of the arrest Persaud's phone rang in the accused's possession.
He also stressed that Persaud and Saul both witnessed the accused taking off his mask while attempting to escape. Joseph said, a mask and a pair of gloves were retrieved.
Meanwhile, Sohan argued that Saul's car allegedly hit Lakhram injuring his foot in two places and causing damage to the car fender.
However, Joseph countered that the accused was noticed jumping a fence during his bid to escape which resulted in his injuries.
The prosecutor also highlighted that the damage to Saul's vehicle was caused by gunshots which were discharged by the accused while in the company of others during their attempt to escape.
According to the prosecutor, police are presently working on leads to nab the other perpetrators. He said the firearms have not been retrieved.
Sohan argued that the haversack containing the stolen items was not found in his client's possession.
He asked for bail to be granted, contending that the accused needed immediate and regular medical checkups.
Magistrate Singh denied bail and ordered that the accused be medically examined.
He will return to court on January 4, for reports.
Lakhram limped on one foot while leaving the court and threatened Akash Persaud and Devi Singh, which led them to file another report at the Springlands Police Station.
The accused's father, Omesh Lakhram, 44, was also placed under arrest after clothing matching that which the perpetrators reportedly wore during the robbery was found in his house. He has since been placed on $100,000 station bail, as police continue to investigate the robbery.
Last Saturday evening several perpetrators armed with guns  invaded Persaud's supermarket and robbed him and other customers who were present at the time.
Constable Saul who was also present at the supermarket along with Persaud chased after the perpetrators in Saul's vehicle during which they caught Lakhram reportedly after he injured his foot and was unable to flee.
Around the Web