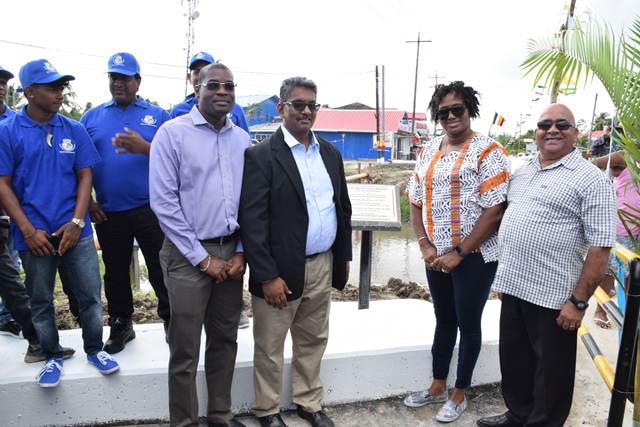 The vital Bagotville Bridge on the West Bank of Demerara was recommissioned yesterday, according to the Department of Public Information (DPI).
The bridge had experienced severe deterioration earlier this year and a temporary bridge had to be built alongside it while major works were done.
Ministers of Public Infrastructure, David Patterson and Annette Ferguson; Regional Executive Officer (REO), Region Three, Dennis Jaikaran and Chief Executive Officer, (CEO) GAICO Construction, Komal Singh unveiled a plaque at the bridge to mark its opening.
According to DPI,  Patterson told the gathering that a $92M contract for the emergency project was signed with GAICO Construction and General Services Incorporated on September 15. He said work began on September 21 and was completed at the end of November, two weeks earlier than the scheduled December 15. Two $7M contracts were also signed for the provision of steel.
Patterson urged the residents to take great care of the new bridge especially during the holidays and cautioned them not "to drink and drive."
Junior Minister, Ferguson appealed to the residents to care the bridge which she observed carries new safety features.
Ferguson, according to DPI,  noted that the bridge allows for easier mobility, free travel and less discomfort.  She said that the construction of the bridge also created  12 jobs for persons from the community.
Jaikaran described the event as a significant one for the region stating that the government not only promises new and improved infrastructure but delivered on its promises.
He said that "a bridge like this was able to be completed within six months, not only because of the effectiveness of the contractor but because of good governance of the government in the country."
GAICO's CEO, Komal Singh who is also from Bagotville praised the government for responding promptly, after conducting a review of the bridge with his team. "The Minister (David Patterson) was able to represent the case to the government who responded timely," Singh said, adding "…I am sure we have many more developments in our community that we will see from the government so we can have a better life."
The CEO, according to DPI,  noted that from the 12 villagers employed for the bridge construction, ten are currently employed with GAICO.
Around the Web