A Peter's Hall man was knocked dead early yesterday morning on the Bagotstown Public Road by a speeding minibus, and the driver of the vehicle has since gone into hiding.
Shahabb Vincent Scippeo, 38, of Lot 14 Peter's Hall, East Bank Demerara, was struck down by minibus BLL 3140 around 12:10 am. According to his mother, Zurena Scippeo, the man was at the time heading home from work. He was a mason.
A release from the police stated that the bus, driven by Domain Walcott, of Tuschen Housing Scheme, was proceeding at a fast rate and was travelling on the western half of the eastern carriageway, heading away from Georgetown.
It was reported that Scippeo was crossing the road from west to east when he was struck by the front of the vehicle, fell to the ground and was dragged some distance before the bus stopped.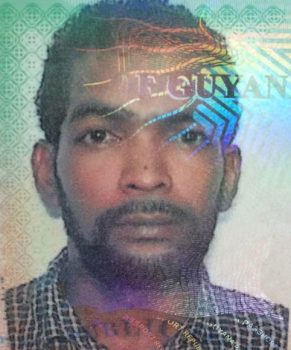 Scippeo was reportedly taken to the East Bank Demerara Public Hospital, where he was pronounced dead on arrival. The driver on the other hand, fled the scene.
While it was stated that Scippeo's body is at the Lyken's Funeral Home awaiting a post-mortem examination, the man's mother related yesterday that she has not yet identified his body.
The woman said that she was alerted to the accident when she received a phone call from someone, following which she visited the police station and was told the grave news. However, when she visited the parlour, she was told that it's a "police matter", but she is still awaiting the assistance of the police in viewing the body.
"I gaffa see meh son. I gaffa identify meh son body; I can't just depend on wah other people seh," she stated, aggrieved.
"He was a good son, a very good son. Everybody know he. He don't fight, he don't drink, he don't go party and dance and them thing. He quiet and peaceful, and dah me supporter," the woman related. Scipio was the eldest of four children.
Around the Web