Residents of South Ruimveldt have expressed concern at the paving over of the parapet on to Aubrey Barker Road by two businesses.
The businesses: Stain Masters and another unidentified one at the corner of Gaulin Place have concreted the front of their premises and constructed concrete drains.  Residents also expressed concern over the height of the construction done by Stain Masters.
When Stabroek News visited the area yesterday it seemed as if both of the construction jobs were recently completed.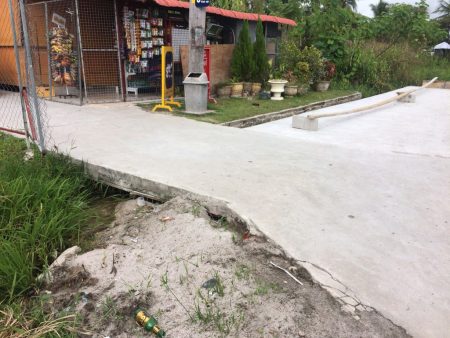 A resident told this newspaper the construction is of concern to him since Aubrey Barker Road, which is the main road in the community, is narrow and poses a challenge to drivers.
He also explained that since the area is known for flooding the construction of the concrete drains could further contribute to the disaster.
Meanwhile, constituency Councillor and former Deputy Mayor Sherod Duncan said he has noticed the construction and based on his understanding the matter is being dealt with at the City Council. He said it is unclear to him if permission was granted for the construction. He stated that he would be looking into the situation. He also said that he believes the construction carried out by Stain Masters is too high and not uniform with the houses in the area.
Around the Web