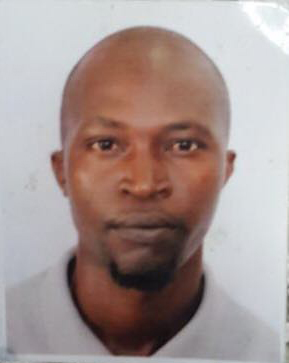 On Christmas Day…
A 35-year-old man is now dead and his fiancée injured after they were attacked and stabbed on their way home during a misunderstanding in Sophia on Christmas night.
Dead is Celwin Mark Allen, called `Marcus', an employee of Noble House Seafoods Limited and a resident of 'E' Field, Sophia. He sustained several stab wounds about his body and was pronounced dead on arrival at the Georgetown Public Hospital (GPH).
His fiancée, Nalydiaa Henry, sustained stab wounds and was beaten with a piece of wood on her left shoulder, head and neck. She, too, was taken to the GPH where she was treated and sent away. Henry received several stitches to her wounds.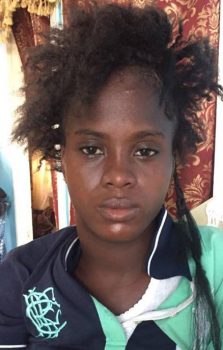 The incident occurred around 7.30 pm on Sunday though a street in 'C' Field Sophia popularly known as `Fine Man Street'.
The suspect who goes by the aliases `Kevin' or 'Spoony' fled the scene after the police arrived and was apprehended around midday yesterday. He has since admitted to committing the crime.
According to a police press release, investigations have revealed that Allen and Henry were attacked and stabbed multiple times by the suspect, who was armed with a knife.
"It was reported that the deceased (Allen) shortly before the incident, interfered with a  friend of the suspect who rebuked him and not satisfied inflicted the fatal injuries on Allen and also wounded Henry who went to his assistance", the statement explained.
They were both rushed to the GPH by a police patrol.
An eyewitness who wished not to be named told Stabroek News that she and her friends were sitting on her bridge liming when they noticed Allen and Henry passing.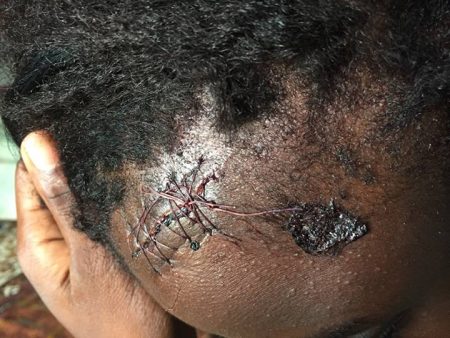 "The young man (Allen) pass with he woman (Henry) and he tell one of he friends goodnight and the boy turn and say  'me aint want hear nothing from yuh' and he start cussing the bai (Allen) and he left and continue walking with he woman", she said.
The friend, the woman said, who had the argument with Allen did not say anything further but the suspect arrived and started to enquire as to what was happening.
"Same time 'Spoony' come through the corner and say ` is wah going on here,  I is the (expletive) boss fuh this corner', she noted.
"Spoony went and bring back the bai (Allen) back to the shop because he did done going he way up the road (and) he started to stab the boy. He bore the boy (Allen) up, kick he and the bai (Allen) fall down by the lantern post and he woman (Henry) go fuh she man …and he tek in pun the bai woman (Henry), beat she up, fire juk, and pick up a big post from the horse cart and beat she up", she said.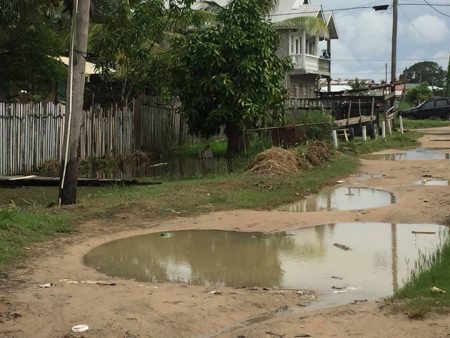 Allen got up and was staggering down the street where he collapsed. "Then the girl (Henry) fall down and I go fuh tek a bucket water fuh throw pun she but she did done get up and gone", she said.
Meanwhile, at the dead man's house, his mother Judy Allen said she invited her son and Henry over for lunch on Sunday as part of the family Christmas celebration and they were heading home when the incident unfolded.  "They say they won't eat, so I pack them food; one bowl fuh he and one fuh she with pepper pot and bread and everything and they left", she said.
Judy related that she was at home when a resident came and informed her that Celwin had been stabbed.  "Some guy come and tell me that Marcus get stab up and he look dead but by time I could get out the house I see the police vehicle and the siren was on and they did done went with he (Allen)" she explained.
The woman said she immediately rushed to the hospital but when she arrived Celwin was already dead. "I had to shut meh son's eye", a grieving Judy said while stating "is better they did beat my child and left he bruk up leh me mind he than fuh them to kill he".
The grieving woman said based on what she understands, her son was mistaken for another individual known as `Black Boy' and who had previously received a death threat from the suspect. "He (the suspect) tell `Black Boy' he gone kill he but so happen my son is dark too and seeing my son like the ignorance in he (the suspect), he decide to connect with my son and bore he up", she said.
Henry, who was present at the house, detailed what transpired to this newspaper. She said, "we (she and Allen) did walking through Fine Man Street and Marcus did hailing up them bai underneath Fine Man shop and a tall boy come up to he and seh yuh disrespectful and the boy start cussing he", she explained, while noting that Allen continued to walking.
"….a short brown skin boy come up to Marcus and telling the boy yuh buddy just now violate me and the boy start pulling Marcus by he clothes and pull he back to Fine Man shop underneath a light, one a them lantern post light and start stabbing he up, pick up a 2×4 from off a horse cart and lash he in head and kick he overboard", she further explained.
At this point, Henry said she tried to intervene by holding onto the suspect, who turned the knife on her and stabbed her several times before hitting her with the wood. "I hold on pun the bai (suspect) and he start stabbing me up and pick up the 2×4 and lash me in meh head", she said.
Allen managed to get up from the trench and walked to the corner of the street, where he collapsed. Henry said although she was bleeding profusely, she went to check on Allen who had already appeared dead.
"The boy that stab up Marcus come and he shining he phone light, taking out picture and asking is who and when the police come he disappear", Henry noted.
Residents in the area described the suspect as a troublemaker. "This is not the first problem he in. He always on somebody case", one man said.
Around the Web