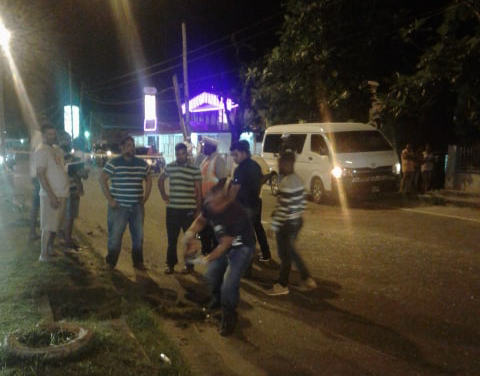 Speeding was blamed for the gruesome death of a 43-year-old bodywork mechanic who last evening slammed into a utility pole on the Providence, East Bank of Demerara Public Road.
Salim Deen, also known as Tony, who was still celebrating his 43rd birthday yesterday, was proceeding south along the East Bank Public Road, in the vicinity of the Providence Stadium, when he crashed into a utility pole.
"We de drinking and see out a nowhere this car come 'voop' and hit that divider (median) and up and slam into the post. He pitch out de car and fall pon de road …," eyewitness Dave (only name given) recounted to this newspaper. Dave and his friends were drinking at the  Stadium View Restaurant when they witnessed the accident.
He said that persons from the restaurant rushed out to render assistance but from the state of Deen's body they knew it was futile.
When Stabroek News arrived at the scene police were collecting evidence and taking photos.
Deen's sister, who is also 43, through wails said that it was only hours before she had spoken to her brother on the telephone when she wished him happy birthday. She said that they are a close-knit family, two sisters and Deen, as both their parents were dead and the grandmother they grew up with also.
Deen has two children, two girls ages 15 and 16 and a wife who lives at Kaneville, also on the East Bank of Demerara.
As word of his death spread, friends and family quickly gathered at the scene where they spoke of a devoted father and loving uncle, brother and friend.
In a statement last evening, the police said that alleged speeding was the cause of Deen's demise.
"An alleged speeding motorist tonight lost his life in the most tragic manner after his vehicle collided with a lamp post erected at the intersection on the centre of the Providence Public Road…," the statement read.
"Enquiries disclosed that motorcar PGG 2276, driven by Salim Deen, 43 of 158 Martyr's Ville, Mon Repos, ECD was proceeding north along the eastern driveway of the eastern carriageway allegedly at a very fast rate when he lost control of the vehicle which collided with the lamp post and turned turtle; in the process the victim was flung out and sustained severe head injuries …" it added.
Police say they are continuing investigations.
Around the Web