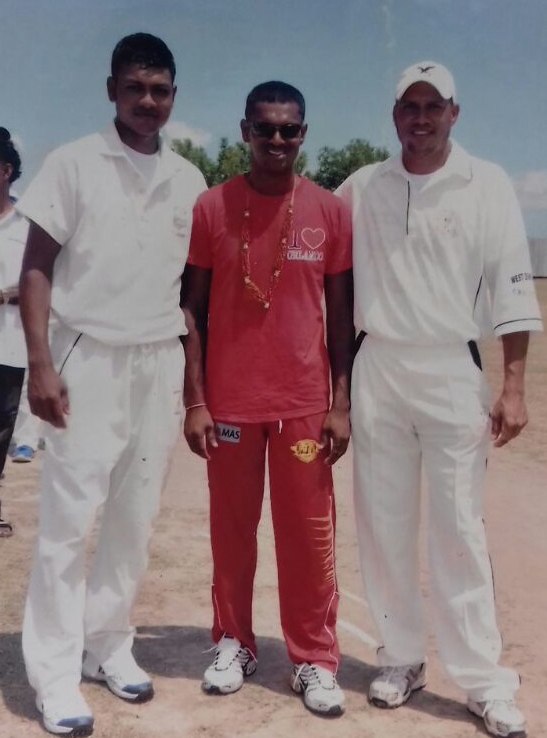 Amit Roy Jairam, Captain of the Wolf's Warriors and "the Softball king" will be remembered for his rich contribution to the cricketing world.
Jairam, known as Rocky, died following a tragic course of events on December 16 at Tarla Dam, Meten-Meer-Zorg, after being struck by a minibus. He was reportedly assisting an injured man at the time.
Jairam began his cricketing career at 18 years old, when he started playing hardball with the Uitvlugt Cricket Club. He then moved on to the West Demerara Cricket team, and subsequently got involved in softball cricket, when he started playing for President's XI, a West Coast team.
According to his longtime friend Vijay Persaud, Jairam's involvement in the sport spanned several other teams after then, including the Zeeburg Sports Club, the New York Mafia. He would lead his team, Wolf's Warriors, which he had captained since its establishment about six years ago, to varying tournaments overseas, and on home soil, the team copped the winning title at GT&T's 10/10 Softball tournament on more than one occasion. He had also reportedly been successful at the Guyana Cup and the Canada Cup.
Persaud boasted that Jairam had received recognition as Man of the Match more than 50 times.
"People look up to him as one of the best captains. He had many followers, and was rated the softball king of Guyana," Mohamed said of his friend, whom he had known for more than 15 years.
The man was described as generous by both Persaud and Jairam's mother, Loreen Thomas, who related that her son had a habit of giving away his trophies to local cricket teams, specifically youth teams.
Even so, the house is adorned with dozens of his trophies and medals, what they said is "only quarter" of what he has received over the years.
Aside from cricket, Jairam was a contractor.
At the time of his death, he was reportedly working along with Randy Melville, 20, who also passed away subsequently, as a result of the same incident.
Melville, of Lot 35 East Meten-Meer-Zorg passed away on Friday last at around 3:55pm. According to his mother, Marva LaCruz, Melville suffered from a fractured skull, punctured lungs, a fractured neck and swollen brain.
"Me child didn't do nothing wrong, he just went to he boss rescue," La Cruz said of her son's death. The woman was in the interior at the time the incident occurred.
Melville, who was father to a four-month-old son, was described as easy going and quiet by relatives.
Melville and Jairam were two of four persons injured on December 16, when Prince Reid, an ex-policeman of Stewartville, West Coast Demerara, after a misunderstanding, reportedly chopped Premnauth Basdeo, 20, to the head, and then ran over Jairam, Melville and Mohamed Ahamad.
Jairam died the following morning, and Melville days later.
Basdeo is currently recovering from a broken shoulder and arm and a punctured right lung, while it was said that Ahamad received stitches and was released.
Around the Web