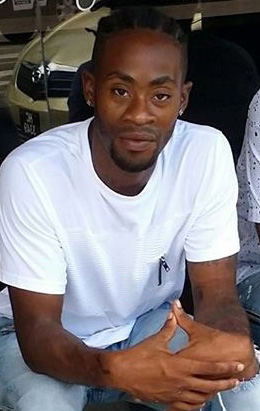 A 25-year-old Plaisance, East Coast Demerara resident died on Christmas Day, more than one week after he was stabbed in his neck during an altercation with a member of a gang who had targeted him for some time now.
Darnell Pompey, 25, a welder and a poultry farmer of Lot 76 Prince William Street, Plaisance, ECD succumbed to his injuries around 9pm on Monday in the Intensive Care Unit (ICU) of the Georgetown Public Hospital (GPH).
Prior to his death, he never regained consciousness and doctors had told his relatives that he would not survive.
The suspect managed to flee the scene and is yet to be apprehended.
According to reports reaching Stabroek News, on the night of the incident, Pompey was approaching his cousin, Sherman Adams who was seated on his motorcycle when he was confronted by the suspect.
Pompey and the suspect had an exchange of words which escalated into a scuffle. During the process, the suspect allegedly whipped out a knife and stabbed him in his neck.
"He (Pompey) was coming to me and same time he and the guy (the suspect) had a problem or whatever it is. But is a long story, is not today story alone", Sherman told this newspaper.
Sherman explained, "Me aint know what problem they had but when he (Pompey) did coming to me the guy (suspect) ran out from the bus shed where he was sitting and he (Pompey) go round to the guy but he didn't see the guy had a knife".
He said the duo had a confrontation which eventually escalated into a scuffle during which the suspect broke a bottle and applied the knife to Pompey's neck stabbing him.
"Is a gang of them and like eventually the guy (suspect) buy over the story", Sherman noted.
He said he immediately rushed to Pompey's rescue after he learnt that he was stabbed. Sherman said that this incident, is not the first time Pompey was attacked by the gang. Last year, he said Pompey was chopped about his body and had his house stoned by the men. "That was since like last year, he (Pompey) went down by he friend them and they (the gang) bank he, about five or them or six of them and they beat he up", he related.
Meanwhile, a relative said that from all indication Pompey was bullied and often times targeted by the gang since they wanted him to join but he refused. "It was an ongoing thing. They persecuted him because you know I guess youngsters jealousy and because they were trying to pull him in the gang and he wouldn't go", the relative said.
"I personally went with him (Pompey) to the police because they came here and crashed up the windows and he called me and I went to the station and told them what happen….this was like months ago and they told me that these boys are bad boys and they got to come and get them with big guns because of how bad they supposed to be", the relative explained.
Marcelle Adams, mother of the dead man is calling for her son's killer to be caught and prosecuted.
The woman who resides overseas said after she learnt of her son's death, she immediately flew into the country.
She recalled that when she was in Guyana during March, the man who allegedly had chopped her son approached her and admitted to committing the crime. "I came home back in March and was walking up to go to the corner, one of them who get bail on prior story with my son came up to me and said ' I am the one who chopped your son up", she said.
Marcelle said she reported this to the police who had warned the man. "..they tell him see this woman and have nothing to say to her but on to this evening I was going to put some balloons up for my son and the brother of the boy who killed my son was staring me down  but I put my head down and I continue going about my business", she further stated.
"He (the suspect) ripped my entire family heart apart by taking my child's life and him running around the village is tearing me apart knowing he is out on the streets roaming freely like it's a joke", she said holding back her tears.
Pompey was the father of a six-year-old daughter.
Around the Web