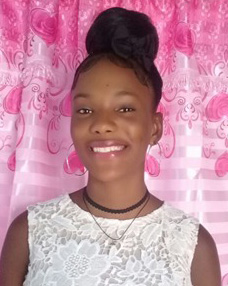 A 15-year-old girl is currently battling for her life in a city hospital after she was struck down on Christ-mas morning by an out-of-control car along the Tempe Village Public Road, West Coast Berbice.
Injured is Ronella Thornton, a student of Fraser's Educational Institute and of Lot 277 Tempe Village, WCB.
During the accident which occurred around 8.15 am on Monday, Thornton sustained a broken right leg, injuries to her liver and a fractured skull.
She was taken to the Fort – Hospital and was later transferred to the Georgetown Public Hospital (GPH) where she remains a patient in the Intensive Care Unit (ICU).
Thornton had since undergone  an emergency surgery to stop massive internal bleeding. Her condition is listed as critical.
The driver was taken into police custody as the investigation continues.
Floyd Thornton, father of the teenager, last evening told Stabroek News that the accident occurred while Ronella was returning from a shop.
He said based on what he was told Ronella was walking west along the Tempe Public Road when she was struck down from behind by the car which reportedly lost control after coming around a turn on the said road.
As a result of the impact, she was flung some distance away before she fell on the roadway.
Floyd related to this newspaper that he was also on the road when someone told him about the accident. "I was not too far from where it happen and someone told me my daughter just got hit down by a car', she said.
He said by time he arrived at the scene, Ronella had already been picked up and taken to the hospital.
Around the Web