Thirty-nine-year-old Kim (not her real name) has been literally living from day to day for the past 15 years and as she enters the New Year she does not see her situation changing because she believes being HIV positive is a case of having "one foot in the grave."
Even though she is on medication and leads a relatively normal life, Kim said if she had one wish for the New Year it would be to be cured. She said that while she has sought counselling and works along with Guyana Community of Positive Women and Girls (GCWAG) in a bid to empower herself the discrimination she continues to face is "not easy to live with."
"No matter what people say, we don't get good treatment and I does always feel like I could die any time. I know anybody could die any time but is like with this thing like I does feel my time is near," she told the Sunday Stabroek in a recent interview.
So mindful she is of her positive status it has barred her from sharing it with persons; even though close to her, like her children.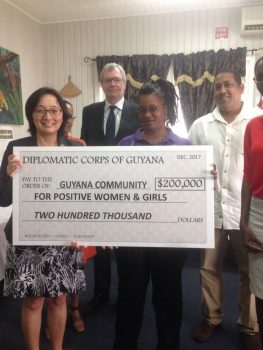 "You see this thing ent easy, people just suspect and dem talking about you. And for me I think is people at the clinic who talk out me status and people does be looking and talking. I had to move from place to place to get away," she said.
She is a mother of four and she only told her eldest son after he heard rumours and asked her about it.
"I does teach them you know, so he know about HIV. I try to mek them understand so in case dem hear something they don't think of me different from before. When I tell him, you could see he was upset for some time, but now he don't really show it," she related.
As for her relatives, Kim said she would "never" reveal her status to them. "Dem can keep guessing because people does talk but I would never tell them."
She shared that she was ostracized by her relatives because she got children for a man from another race.
"Dem stop talking to me, ain't want nothing to do with me children, so you could imagine now if dem know I get HIV is more dem guh talk and dem would say is because I had relationship with a man from another race," she said.
Rumours
Going back many years to the time she found out she was positive, Kim recalled that she was with a man and there "was rumours going around that he had AIDS, but you know I didn't believe."
She recalled that after a few years they separated and a while later she visited a doctor because there was a lump on her neck; that was when she got what she still describes as "the worse news."
"The doctor tell me that they want cut it [the lump] but I need to take some tests and is then I find out I positive. When the nurse look at me, I just get scared because I know something wrong. She then tell me you that 'you are positive' I just get, you know, get cold. I start crying and the tears just coming all the time," Kim said and as she spoke she wrung her hands and it appeared as if she was reliving that day 15 years ago.
After she had dried her tears, Kim said, she returned home and cooked for her children and pretended as if everything was alright even though she felt as if her life was over.
She was with her former partner for years and had no one after him and because of the rumours she had heard she knew he had passed the virus to her.
"I was so scared, and I had no one to talk to because I didn't know no one positive but when I tried talking to him on the phone he say how don't know anything about what I saying and how he not getting tested. He tell me I must had somebody else and dah is how I get it, but it was not that," she said almost close to tears.
Kim no longer hears from the man even though they live in the same neighbourhood and he does not support the child they have together.
"The only good thing is [the child] ain't positive when I get dah news I tell you, you don't know how good I feel," she said.
Kim said because she wanted to live a "normal life" she picked up with someone else, but she ensured that she told him about her status before they became intimate.
"I tell he, but it was like throwing water on duck back, but I think he did know because he had a cousin who was positive and me and she was friends and you when I go by them I would be in the room with deh cousin, so he did know."
They were together for four years and in that period, she gave birth to two children even though according to her they used a condom. She recalled that with the first pregnancy she was very scared since she did not want the child to be positive and she cried throughout the pregnancy.
"And is then when I had to go to the clinic and them nurse and so find out is dem spread the news and the whole place did know. But like a say my family can just assume, dem don't know and I not confirming it," she said.
But while she continues to face discrimination, Kim said she is still thankful for the support she receives from GCWAG and the Network of Guyanese Living with HIV/AIDS (GT+) and she said it is through these organisations that she has been able to educate herself more about the virus.
Kim is self-employed and while it has been difficult she said she prefers to remain that way because she is not skilled, and is paid a pittance when she works with anyone and more often than not the money she earns is used up in paying for transportation.
Kim is currently single, and she said she is scared about starting a new relationship. She noted that some men who are HIV positive do not confess this to their partners and they would in turn blame the woman for their positive status.
"Is like dem know you positive and dem positive and they would start with you and den come and say how dem positive and blame you. I don't want nobody to be abusive to me. I grow up and see me mother abuse and it wasn't good. I don't want me children to have to go through that," she said.
She shared that she experienced the above scenario, but put an end to it before it got worse.
"Is like two weeks after we had sex and we use a condom that he lef positive test results where I could see it den tell me I give he HIV. And he did done kind a sick when I find get to go to a doctor, the doctor tell he how he had to be living with it for years because of how sick he was. But he keep saying no and then start to abuse me and follow me all over deh place. But I get up and get out, I couldn't live with that."
Head of the GCWAG Marlyn Cameron said her organisation continues to work with women like Kim to help them to be empowered and to educate them about their rights and how to deal with depression and live healthy lives.
The organisation received a boost recently through monetary donation from the diplomatic community in Guyana and Cameron said the money go towards assisting women to deal with depression and also help them to be skilled and become self-reliant.
The GCWAG, according to Cameron, was formed in 2015 through the leadership of Crystal Albert. As of July of this year, GCWAG, which is also an arm of GT+, had over 90 members.
In extending New Year's wishes, Cameron said she hopes that women and girls living with HIV and AIDS can have better support in 2018. She reminded them that adherence is key and that they should use a condom when intimate.
Persons interested in learning more about GCWAG can call 691-7297 or email [email protected]
Around the Web