The body of a father of three was on Friday evening discovered behind Public Buildings, several days after he was reported missing by his wife.
Stabroek News understands that Dereck Rampersaud, 31, of Eccles, East Bank Demerara was first reported missing by his wife on Boxing Day after he failed to return home after leaving on Christmas Eve night.
According to the post mortem report received by the family, it was stated that the man died of suffocation, suspected to have been the result of him being intoxicated and falling face down in sand.
However, the man's wife Natasha Rampersaud believesthat her husband was a victim of foul play.
Speaking with Stabroek News last evening, the woman explained that she was not at home when her husband allegedly disappeared as she was visiting her mother.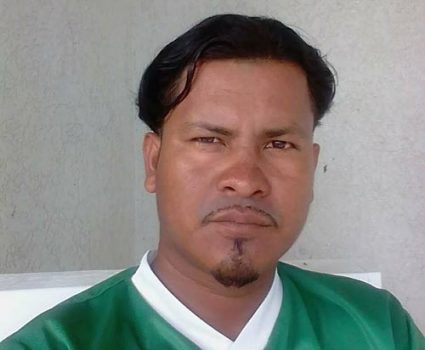 Nevertheless, the couple had made plans to meet that night but the woman said her husband told her that he was no longer going to be meeting her. She said that they continued to talk for some time and he disclosed that he was drinking next door with their neighbours.
Natasha went on to say that the following morning she tried to contact her husband but did not get through to him;  she said she did not think much of it since she assumed he had not charged his phone.
However, as the day went by and she returned home, she did not see any sign of him. It was not until her son came back from a Chinese restaurant and told her that he had spotted his father's bicycle that she began to worry.
"I found out from the neighbours that he had left them at 10:30 the night and said he was going in front…when my son came back and told I went and check and they told me that he said he was just leaving the bike there and he going to come back for it just now. I know my husband don't be out so late and I started to worry," his wife explained.
This, prompted her to file a missing person's report the following day at the Providence Police Station, while she made efforts to locate him.
However, her worst fears were confirmed on Friday when her mother received a phone call from the police informing her of a body being picked up at Public Buildings.
Natasha explained that she was showed a pair of slippers, two identification cards and a Republic Bank card and asked  if they belonged to her husband. However, she said that none of those things belonged to him; it was not until she was shown a picture of the body that she was able to confirm that it was her husband.
When asked if her husband had any reason to be in the area he was found, the woman responded in the negative.
"It hurts and I still can't believe it. They say he suffocated but I believe my husband was robbed and murdered. I need some kind of justice for my husband," she said.
Natasha further noted that she has not heard anything else from the police on the matter and that her husband's remains are currently being kept at Carmen's funeral home on the East Bank.
She noted that they had been married for the past eight years and have three children together.
Around the Web