(Trinidad Guardian) The woman accused of beating a four-year-old girl to death has pleaded for protection in jail.
At her initial court appearance yesterday, Marcia McClean was jeered and taunted by relatives of the dead child as she was escorted by police officers.
"Don't hide, don't hide," the child's relatives shouted at McClean who hid her face.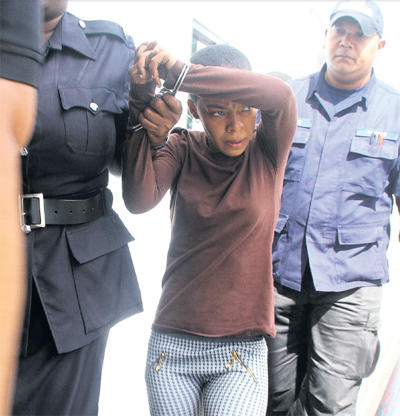 Relatives of the child and McClean also turned on each other in an exchange of words outside the courthouse.
A petite McClean, 28, who was handcuffed as she was taken court by a police officers charged with the murder of Jenice Figaro, attempted to hide her face from photographers. She covered her head with a towel given to her by a relative.
As she sat on a bench in the First Court waiting for her matter to be called, McClean was seen crying and drinking from a bottle of water.
Her attorney, Subhas Panday, said he intends to write to Prisons Commissioner Sterling Stewart, seeking protection for his client who was remanded in custody.
Deputy Chief Magistrate Nanette Forde-John read out the charge that on November 24, 2016 at Corosal Road, Whiteland McClean murdered Jenice.
Panday, who appeared with attorneys Frank Gittens and Chantal Paul, expressed concern for his client's safety.
"Having regard to the advance pre-trial publicity against the accused I don't know what will happen today after here. I will be writing the Commissioner of Prisons to have her protected," he said.
Panday said the defence is ready to start the matter.
He told the magistrate: "I am asking for disclosure as soon as possible and we are ready to go."
The magistrate told him he was free to write the Commissioner and reminded him that a State attorney has to be appointed to prosecute the matter.
The charge arose out of an incident at the child's home where she lived with her father, Robert Figaro. McClean was also living there with her two daughters.
Initial police reports stated that Jenice complained about a stomach ache after eating a meal of fries, garlic sauce and ketchup. She was subsequently pronounced dead at the San Fernando General Hospital. An autopsy revealed that the child was beaten to death.
McClean was arrested about a month after the child died, but was subsequently released. However, she was rearrested and on Thursday was charged after instructions were given to the police by the Director of Public Prosecutions. The charge was laid by WPC Serioux of the Homicide Bureau.
McClean was remanded in custody at the Women's Prison and the matter was adjourned to February 3.
​
Around the Web