MEXICO CITY,  (Reuters) – Mexico's new Foreign Minister Luis Videgaray said yesterday there is no way his country will pay for the wall that U.S. President-elect Donald Trump has pledged to build on the United States' southern border to keep out illegal immigrants.
"There's no way that could happen," Videgaray said on Mexican television a few days after his appointment.
"There are no circumstances…not even the best possible trade deal, investments, support which would justify taking a step that would violate the dignity of Mexicans to such an extent."
The wall has been a bone of contention between Trump and Mexico since the businessman launched his presidential campaign in June 2015, accusing Mexico of sending rapists and drug dealers across the border into the United States.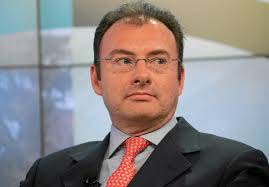 Trump said on Friday that Mexico would repay the United States for the wall, a day after news emerged that the New Yorker's transition team was exploring getting the Republican-led Congress to vote to approve the funding.
Previously Mexico's finance minister, Videgaray played a key role in setting up Trump's hastily arranged visit to Mexico City at the end of August, which turned into a public relations disaster for President Enrique Pena Nieto.
Videgaray stepped down as finance minister a week later. Officials say he has played an important role in informal talks with Trump's transition team, particularly his son-in-law Jared Kushner who is set to become a senior White House adviser.
During the television interview, Videgaray said he had a "very favourable impression" of Kushner, whom he described as "extraordinarily competent." Contact with Kushner had come about through connections on Wall Street, Videgaray said.
Videgaray said setting up a meeting between Pena Nieto and Trump once the American takes office on Jan. 20 was a priority.
Trump has vowed to ditch a joint trade deal with Mexico if he cannot renegotiate it in the United States' favor, and has threatened to slap a hefty border tax on goods produced in Mexico, notably from its burgeoning automobile sector.
Last week Ford abruptly canceled a planned $1.6 billion investment in Mexico, and Trump promptly thanked the firm.
"I think the uncertainty (over trade) is doing a lot of harm to investment decisions in the automotive sector and many other sectors," Videgaray said.
The foreign minister said Mexico would also need to undertake more trade missions than ever before in 2017 in Asia, Europe and Latin America to diversify its base.
Comments

CHICAGO,  (Reuters) – Brazil could eclipse the United States as the world's top exporter of corn within five years, ending decades of U.S.
RIO DE JANEIRO,  (Reuters) – Brazil's federal government yesterday ordered the army to take over command of police forces in Rio de Janeiro state in a bid to curb violence driven by drug gangs, who have "virtually taken over" Rio's metropolitan area of 12 million people, President Michel Temer said in announcing the decree.

MEXICO CITY, (Reuters) – The head of the Organization of American States' anti-corruption mission in Honduras said on Thursday he would resign over a lack of support from authorities in the Central American country and clashes with OAS leadership.

VALENCIA, Venezuela/ CARACAS  (Reuters) – Billionaire businessman Lorenzo Mendoza has ruled out challenging Venezuela's leftist President Nicolas Maduro in the upcoming election despite multiple calls for him to stand, sources from his company's workforce said yesterday.
CARACAS, (Reuters) – Venezuela's unpopular socialist president Nicolas Maduro said yesterday his right-wing Latin American counterparts showed intolerance by trying to exclude him from an upcoming summit in Lima – and he vowed to go anyway.