(Trinidad Express) Homicide detectives believe Sharlene Somai was killed by someone she knew and maybe even loved. But she may have been found alive if the police had done their jobs and started searching, says family.
And police are now pleading with her relatives to come forward with any information which can help to solve the case.
A close male relative was detained near the scene where her nude body was found in bushes at Peterfield Village, Chaguanas, on Thursday.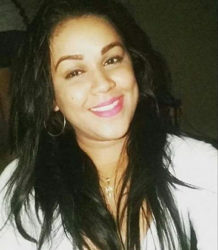 Investigators said he was not a suspect but may have information on what happened the night the 23-year-old mother of one went missing.
Somai lived with her common-law husband and their son at her parents' house at Peterfield Village.
Relatives are not convinced that Somai's death was triggered by a domestic dispute.
Her brother, Anthony Somai, said Somai hardly had arguments.
But he criticised the police response in Somai's case.
The brother said he believed his sister would have been found alive if police had acted immediately.
Anthony Somai said the family knew something was wrong when his sister did not return from a nearby parlour on Tuesday night.
He said relatives went to the Chaguanas police station but officers did not respond immediately.
Pastor Keith Ramdath, who arrived at the scene, said he was disappointed in the police response.
Ramdath said, "The police needs to get their act together. The girl could have been found sooner if they had acted."
But relatives did not wait, he said. They began searching nearby canefields for the missing woman.
Yesterday afternoon, police were led to the body by Crime Watch host Ian Alleyne who said he received information from an anonymous source.
Relatives told the Express that Somai was found lying face down with a black plastic bag over her head. Investigators said it appeared that she was strangled.
Her body was removed to the Forensic Science Centre in St James where an autopsy would be performed today.
Around the Web