ASUNCION (Reuters) – A protester was killed in Paraguay and two top government officials were fired after violent clashes overnight sparked by a secret Senate vote for a constitutional amendment that would allow President Horacio Cartes to run for re-election.
Activists streamed into Paraguay's capital yesterday from the landlocked country's interior in a sign the protests may resume after the country's Congress was stormed and set on fire.
Firefighters managed to control the flames on the building's first floor on Friday. Thousands of protesters rioted in other parts of Asuncion and elsewhere in the country into the early hours of Saturday.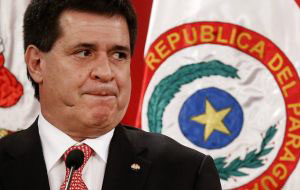 Reports of damage and injuries proliferated. At Congress yesterday, charred debris and glass from broken windows littered the steps.
Rodrigo Quintana, 25, was killed by a rubber bullet fired by police at the headquarters of a liberal youth activist group, the Paraguayan opposition and a prosecutor said.
"We have a commitment to the blood Rodrigo spilled … we will continue the fight," opposition Senator Miguel Saguier said at a press conference.
The Interior Ministry said in a statement an investigation would be opened into Quintana's death. Interior Minister Tadeo Rojas was later fired by Cartes along with the national police chief, Crispulo Sotelo.
"We are working to identify the people responsible for the events," the new interim interior minister, Lorenzo Lezcano, told a news conference.
Around 200 protesters were detained, police said, and shops and government buildings were vandalized.
Several politicians and journalists were injured, local media reported, and the government said several police were hurt.
One member of the lower house of Congress, who had been participating in protests that afternoon, underwent surgery after also being hit by rubber bullets.
Meetings for the Inter-American Development Bank's (IDB) annual board of governors went ahead as scheduled in a rare high-level international event in Paraguay.
IDB President Luis Alberto Moreno called for peace and dialogue and said Paraguay would continue to be a vital partner of the regional bank.
While Paraguay has long suffered from political uncertainty and violence, the soy- and beef-exporting country has attracted investment in agriculture and manufacturing sectors in recent years as Cartes offered tax breaks to foreign investors.
"I think this is a very unfortunate event but I do not see that it will have consequences for the economy," Finance Minister Santiago Peña said.
Violent upheaval in the country of 6.8 million is a concern for its much larger neighbours Brazil and Argentina, which have increasingly looked to Paraguay for business opportunities.
Cartes called for calm and a rejection of violence in a statement released on Twitter on Friday night. He promised the government would do its best to maintain order.
Paraguay's Senate voted on Friday during a special session in a closed office rather than on the Senate floor. Twenty-five lawmakers voted for the measure, two more than the 23 required for passage in the 45-member upper chamber.
Opponents of the measure, who claim it would weaken Paraguay's democratic institutions, said the vote was illegal.
The proposal will also require approval by the House, where it appeared to have strong support. A vote which had been expected early yesterday was called off until the situation calmed down, said the chamber's president, Hugo Velazquez.
A popular referendum would also be required to change the law prohibiting re-election, passed in 1992 after the brutal dictatorship of Alfredo Stroessner fell in 1989.
Around the Web