(Trinidad Guardian) Hugging each other and weeping uncontrollably as they held on to their crying children, retrenched Caroni Green Ltd (CGL) workers on Wednesday left their workplace for the last time facing an uncertain future.
With the return of property tax fast approaching, the workers, many of them women, said they were fearful about how they would feed their families.
With a tough job market now existing, many of the 77 employees who received their retrenchment letters at the company's Brechin Castle, Couva office Wednesday said they were unsure they would find new jobs.
Many of them are single mothers and men from rural communities in Waterloo and Cunupia, who live where the CGL farms are located.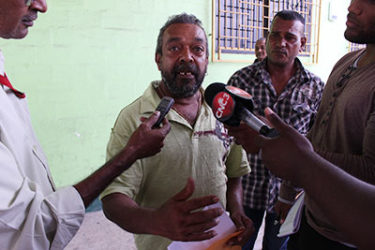 For Darsan Nanan, however, it was the third time he had to go through the pain of being severed from employment. The former Caroni (1975) Ltd worker was forced out of a job when government closed the company in 2003. After finding employment at ArcelorMittal, where he toiled in the furnace, he was once again sent on a job hunt when the steel plant closed in 2016. It was only six months ago that Nanan found hope as a harvester in CGL, only to be sent home yesterday with $5,853 to take care of his bedridden wife and children.
"They gave us a letter of termination which stated that Caroni Green Ltd will be closing down and this is what they paid me. I used to harvest sweet peppers, fill crates, cutlass and plant in the Union farm. God alone knows right now," a distraught Nanan told the T&T Guardian.
He added: "I used to work ArcelorMittal and I got retrenchment there too after 12 years' service. When they gave me my retrenchment letter, I heard about Caroni Green and I ended up getting a work here. "It is hard now because my madame is sick at home and our children are going to school. I have two girls, seven and 12 and I have no source of income. I am 54 years old and people don't want to give you work."
Mother of five Nikita Sankar cried as she noted her husband did not have a permanent job and all their children were in school. Sankar said the retrenchment had left her angry, sad, frustrated and disappointed, as it is hard to get a job these days.
She said after learning of the impending closure, she tried looking for another job but got nothing. Sankar and her family now face an uncertainty.
With her voice crackling with emotion, Deokie Budhoo said she did not think she would be able to fulfil her son's book list when the new school year arrived.
"I used to pick eight crates of peppers a day. This is very sad and I just have to go home. Where can we go from here?" Budhoo said.
Anil Saran meanwhile said Government should have sought other options besides closing down CGL. He said if there was bad management that should have been dealt with so that the workers would not have suffered.
Chairman: TT$2m payout
CGL chairman Jerry Hospedales says 77 workers (63 farm workers and 14 monthly paid) were terminated in yesterday's exercise, with workers with tenures of six months and up receiving ex gratia payments.
He said payments totalling close to TT$2 million comprised of a cash alternative to their vacation leave, 45 days service in lieu of their notice and a fortnightly pay based on the calculations under the Retrenchment and Severance Benefits Act.
Hospedales said many of the employees had worked in the company for less than a year. However, three employees are being kept to assist in the liquidation and finalising the closure. Employees said CGL was left with almost a year's supply of hot peppers and paw paw for export. But Hospedales said in order to ensure that the existing crops were not lost, they had kept 19 employees to man the Mon Jaloux and Union East estates from April 20 until the Ministry of Agriculture provided further instructions. CGL CEO Sharma Lalla meanwhile maintained there was no basis for Government to close the 30-month-old company. He said the improvements that had been made in this time were unparalleled in the agriculture sector.
He said CGL had made a profit in 2016 and audit reports which are due soon will prove him right.
Last month, Govern-ment announced the closure of CGL, which was formed three years ago under the People's Partnership administration.
During a post-Cabinet media briefing, Prime Minister Dr Keith Rowley said CGL was spending TT$6 million to produce 700,000 peppers and faced private sector competition. He said Government should instead support farmers to grow peppers.
Agriculture Minister Clarence Rambharat said CGL had a broken business model and had poor performances over the last three years. He said for the 2015 financial year, CGL reported revenues of just TT$700,000 while administrative expenses, including salaries, cost taxpayers TT$6.7 million.
Comments

(Trinidad Express) Prime Minister Dr. Keith Rowley admitted yesterday that something went drastically wrong and was crooked in the procurement of the passenger ferry the Ocean Flower 2.
SANTIAGO, (Reuters) – A Chilean court on Monday ruled that a law legalizing abortion in certain cases is constitutional, a win for President Michelle Bachelet's centre-left coalition and for groups that have campaigned for years against the country's strict ban.
LAGARTO, Brazil, (Reuters) – Former President Luiz Inacio Lula da Silva on Monday accused Brazil's government of undoing social progress made during his years in office and vowed to restore it if he was allowed to run again next year.

(Trinidad Express) Sports Company of Trinidad and Tobago (SPORTT) has given Shanghai Construc-tion Group (SCG) until noon today to vacate and demolish buildings which have been illegally erected and occupied for more than a year on the eastern side of the National Cycling Velodrome in Couva.
CARACAS (Reuters) – Venezuela's opposition-controlled congress yesterday rejected the self-proclaimed lawmaking authority of a new legislative body elected last month at the behest of President Nicolas Maduro, widening the political divide in the crisis-hit country.