(Trinidad Guardian) Law enforcement officers yesterday raised concerns about the security in place at this country's ports of entry, after they discovered three high-powered assault rifles – AK47s – in a barrel containing loose dog food at the El Socorro Bond area of Piarco Air Services.
Apart from the seized weapons, however, Customs officers realised that about seven or eight more units (weapons), together with 5.5 ammunition and caches of assorted ammunition and magazines for Mac10 and 11s, were cleared undetected by a first consignee just a few minutes before they made the second discovery and seizure of the AK47s.
According to a source at the bond, two barrels of dog food originating from Canada were consigned to two different people through the same shipping company. The two consignees came around the same time, around 10 am, to clear the barrels.
The first consignee managed to get the barrel cleared and left, but when the second consignee came and checks were made the AK47s were found as the loose dog food shifted, causing the weapons to be exposed.
The second consignee was up to late last night assisting a team of officers from the Organised Crime and Narcotics Unit and Customs and Excise Division in their investigations.
The source said when the discovery were made and further checks conducted on the shipping documents, the officers found the barrels came from the same Canadian shipping company but to two different people.
"This is very frightening to know that these weapons which are deemed to be serious underworld criminal equipment has entered the country," the source said.
Also contacted yesterday, Canadian source said semi-automatic firearms such as the AK47s are illegal in Canada and it is believed the weapons were shipped to Canada from the United States to be shipped out to T&T to make it look like they originated from Canada.
The Bond source explained that the consignee would come with the relevant documents to clear the barrels.
"In this case an address of the consignee would have been presented but no one will prove the address, especially when it is not specifically addressed to a company, meaning that it could be any address, make believe address even," the source said.
"Sometimes consignees just agree to come clear a barrel and wouldn't know its contents, but the sender will have to know its contents. In this case, the Customs officers would have been unaware because they treat it as just dog food and worse if it's loose so they would not be carrying out a 100 per cent check."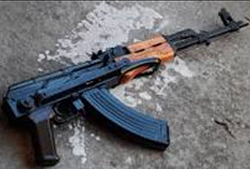 A gun dealer, who wished not to be identified, told the T&T Guardian that weapons of this calibre can be sold for over TT$30,000 or more.
Yesterday, during the weekly T&T Police Service media briefing, acting ASP Michael Sooker disclosed that in the month of May 18 firearms were seized in the North Eastern Division, eight of which were recovered over the last week.
Contacted last night on the find, Acting Commissioner of Police Stephen Willliams said he could not confirm details.
"One of the things is that I cannot confirm. I am aware of certain work being done there this morning but I would not be in a position to give an update on the finds."
Efforts to reach Minister of National Security Edmund Dillon for comment were unsuccessful as calls to his phone went unanswered and a text message was not replied to up to press time.
Comments

(Trinidad Guardian) A domestic dispute yesterday turned deadly for a 27-year-old woman, after she was stabbed in the neck by her lover in broad daylight at the Croisee in San Juan.

LIMA,  (Reuters) – Peru's center-right President Pedro Pablo Kuczynski announced his resignation yesterday after a vote-buying allegations ensnared him in a fresh scandal on the eve of an impeachment vote, capping months of political turmoil in one of Latin America's most stable economies.
CARACAS/BEIJING,  (Reuters) – China is likely to extend an agreement providing crisis-stricken Venezuela with favourable loans repayment terms but will not lend fresh funds to President Nicolas Maduro's government, according to sources in Caracas and Beijing familiar with the situation.

(Trinidad Express) The woman beaten to death with a brick in Mayaro on Monday night was eight months pregnant.
CARACAS, (Reuters) – Opposition presidential candidate Henri Falcon's campaign vowed yesterday to implement a $25 monthly giveaway to Venezuelans, as part of plans to dollarize the crisis-hit economy and alleviate suffering should he win the May 20 vote.