By United States Ambassador Perry L. Holloway
The diverse family of nations in the Americas recognizes democracy is a part of our collective DNA.  Sixteen years ago in Peru, we underscored this principle with the adoption of the Inter-American Democratic Charter, affirming the right of the peoples of the Americas to democracy and obligating our governments to defend that right.  The Organization of American States has for decades provided a forum to discuss our greatest challenges and take action together to address them.  The challenge before us today is the death spiral of democracy in Venezuela.
In Venezuela, the Maduro government has relentlessly and intentionally undermined constitutional branches of government from the inside.  Since opposition parties won a majority of seats in 2015, Venezuela's National Assembly has been systematically smothered by the Maduro government.  Citing vague, unproven claims of electoral fraud allegedly committed by three legislators, the government has denied the legislative branch the right to pass laws, and the captive judiciary has declared Venezuela's Congress "in contempt," stripping it of all legislative authority.  Maduro usurped the right of the National Assembly to appoint new members of the National Electoral Council, a right clearly provided for in Venezuela's constitution.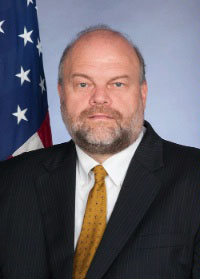 When the Venezuelan people tried to hold their government accountable by putting Maduro's leadership to a vote through a recall referendum, the government again hid behind vague, unproven claims of fraud to delay the referendum.  And, when it became clear the government would lose, it engaged in a failed dialogue.  Venezuela's constitution clearly stipulates that all public offices filled by popular vote are subject to revocation.
Maduro increasingly relies on Venezuela's military to control the economy, intimidate opponents, and suppress popular discontent.  More than 331 Venezuelan civilians are being held and prosecuted by military courts in secret trials.  Yet Venezuela's constitution clearly states that the jurisdiction of military courts is limited to offenses of a military nature.  Venezuela's Attorney General, appointed by then-President Hugo Chavez in 2007, has condemned the trials and been refused access to the prisoners.
The Maduro government has had every opportunity to end its march away from democracy.  Last November, in talks overseen by the Vatican, it promised in a joint declaration with the political opposition that it would remain "strictly within the constitutional framework:  one democratic, peaceful, and electoral path."  Remarkably, the government failed to implement any of its public commitments under the talks and has instead continued to sabotage Venezuela's democracy.
Faced with a crumbling economy and massive popular dissatisfaction, the Maduro government is now destroying the last vestiges of democratic order.  The government has called for a constituent assembly to abandon the constitution and write a new one in a process that would instantly wipe away the current National Assembly, the Attorney General, and other existing democratic institutions.
When a government breaks with democracy, we must act in solidarity with its people, not through intervention or interference, but with diplomacy and mediation among all parties to help find a peaceful, democratic, and comprehensive solution.  We must ask:  if these things were happening in our own countries, would we not want the rest of our American family of nations to speak out, and reach out, to help restore fundamental democratic freedoms and respect for constitutional institutions?
The spillover effects from Venezuela's crisis are serious and growing, whether it is irregular migrant flows to countries in our region or the increasing flows of arms and criminal activity that affect the Caribbean in particular.  All of our countries have a direct stake in finding a negotiated solution that restores the rule of law and economic prosperity to our troubled neighbor.  The General Assembly of the Organization of American States is the venue for us to unify as a region and act multilaterally to foster negotiations in Caracas to return to a respect for democracy, end the polarizing violence, and help the Venezuelan people reclaim their democratic rights and power.
Comments

LIMA,  (Reuters) – Pope Francis celebrated an open air Mass for more than 1 million people yesterday, ending a trip to Chile and Peru marked by tough talk on political corruption but a backlash over what many see as his insufficient resolve to tackle sexual abuse in the Church.
GUATEMALA CITY,  (Reuters) – Former Guatemalan presidential candidate Manuel Baldizon, who is wanted on graft charges, has sought asylum in the United States after he was arrested while trying to enter the country, authorities from both nations said.
MEXICO CITY,  (Reuters) – There were more than 25,000 murders across drug-ravaged Mexico in 2017, the highest annual tally since modern records began, government data showed.
LONDON,  (Thomson Reuters Foundation) – Four out of every five dollars of wealth generated in 2017 ended up in the pockets of the richest one percent, while the poorest half of humanity got nothing, a report published by Oxfam found yesterday.

(Trinidad Express) It is official! Retired judge Paula-Mae Weekes is now the President-elect of Trinidad and Tobago.