(Trinidad Guardian) The gruesome murders of 13-year-old Videsh Subar and his 56-year-old sitter Rose Mohammed have impacted on Prime Minister Dr Keith Rowley, so much so that it has left him very disturbed and shaken.
Speaking at yesterday's post-Cabinet media briefing, Rowley said he hoped the T&T Police Service can bring the perpetrators of the killings before the courts expeditiously.
The throats of Subar and Mohammed were slit by their killers at Mohammed's Ajim Baksh Street, Malabar home on Wednesday during a home invasion.
Yesterday, Rowley said there were some new developments taking place in the country, some of which were not uplifting and disturbing.
"I am very, very shaken and disturbed with what happened in the East with that child and its guardian who were so brutally murdered, and it makes us wonder what kind of people we have become," said Rowley, his voice dropping as he spoke.
Saying it is now standard practice that when violent and heinous crimes are committed there is a public demand that the Government do something about crime, Rowley said "that demand is understandable because people want to feel safe, people want to feel secure and people want to know that their families and their communities are protected from these things."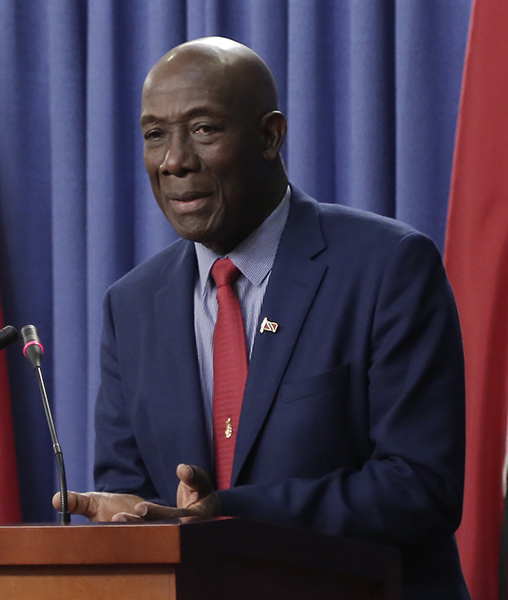 The PM said the interventions by individuals who make a decision to carry out such activities "shock us all the time." He said whatever the Government has in place, be it prison, police or court "we are always surprised by these kinds" of murders.
In extending condolences to the family of the victims, Rowley said just looking at the grief on television as a citizen, he was quite "shaken by this kind of thing and I trust that the law enforcement authorities would find the perpetrators of such heinous and disturbing action."
Asked about the TTPS' ineffectiveness in its battle against the criminal elements and he could do to fill the gap, Rowley replied, "That is one area where you do not have an alternative. There is no alternative but to keep working and improving the ability of law enforcement in the country. And law enforcement in our country under the Constitution is largely the Police Service."
In the area of national security, Rowley disclosed that Cabinet took a decision not to pay $200 million to maintain for one year four of the country's helicopters.
"This is a cost that has been negotiated downward I was told. US$34 million I was told. We just can't afford that! If we can't afford it then the helicopters would stay on the ground… much as we would like to have them in the air. If we have $200 million dollars, the question that arises is that the best way to spend $200 million in the fight against crime?"
He said selling the helicopters was one option the Government may look at.
Around the Web