(Trinidad Guardian) If further attacks continue on Chinese people living in T&T there may be a second exodus of this group of people from the country similar to what occurred during the Black Power revolution in 1970. This was the opinion expressed by several Chinese businessmen.
According to one local-born Chinese businessman, "During the Black Power riots many Chinese businessmen closed up their businesses and sold their properties cheaply. They migrated to Canada after they were threatened to be killed and molotov cocktails were thrown into their stores and shops, and one of the saddest things was many of them were born here.
"Some of us are afraid that it may happen again and also with the July 27, 1990 coup, it's in some people's blood to threaten to kill, loot and burn down Port-of-Spain again. We can't survive something like that again. It's not worth your life or your family's if you have small children," one businessman said.
Another Chinese businessman, however, felt they were not specifically targeting Chinese people despite several killings of Chinese nationals.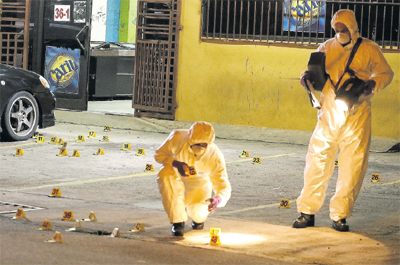 He said in most cases they were random attacks and there was the perception that all Chinese people in T&T had money, did not fight back and were "soft" targets for criminals. The businessman said Chinese businesses that opened late were at high risk to be robbed.
He said businesswoman Yang Zeng, who was killed during a robbery at her grocery in Santa Cruz, might have retaliated when the bandits attacked.
The businessman felt the attacks were not ethnically motivated, but were attacks on business people in general. He said if the opportunity arose to rob people presented itself, the bandits will do it.
Another Chinese businessman claimed, however, that several years ago when a Port-of-Spain businessman shot and killed two bandits who repeatedly robbed his establishment, some members of a gang with an Italian name, which the dead bandits belonged to, vowed to indiscriminately kill Chinese people in drive-by shootings in retaliation.
The businessman said the situation in the country was going from bad to worse, and several stores in the malls were closing down. He said the country was in for a rough ride, the oil economy will be hit hard as more alternative fuels, hybrid and electric vehicles become more commonplace.
The businessman said they were experiencing the negative impact now—their stores had goods but nobody was buying, "they want to buy but they don't have money". The situation is very grim.
The National Operations Centre (NOC) Commander Garvin Heerah says law enforcement authorities must investigate whether there is the existence of a Chinese mafia or Triad gangs operating in T&T.
He was speaking in response to the violent crimes, killings and kidnappings, perpetrated against several Chinese nationals.
Heerah, senior lecturer at School of Accounting and Management (Anglia Ruskin University, UK), said, "The recent visibly disturbing rise of Chinese businesses and enterprises is proof that there is a striving economy, be it legit or illegitimate.
"The targeting of Chinese nationals cannot be perceived to be a petty gang activity or opportunistic crime only. There are big players behind this who are controlling the Chinese business industry.
"The Chinese Triads were a known Chinese mafia syndicate for transnational organised crime, specialising in racketeering, illegal gambling, prostitution, extortion and kidnappings, narco and arms trade, corruption of public officials, import and export enterprises and pseudo business establishments, where there was a legitimate business establishment to the front and a clandestine operation behind false walls and hidden rooms.
"The Chinese Triads operated with a strict code of conduct, if someone violated this the result can be death, a manner of death that will send a message and tear at the heart of the innocent."
The regional security expert said the authorities cannot deny there would be extortion, robberies, kidnapping and petty crimes. T&T is in a crime-dominant society and crime today is a business, so criminals will always prey on the potential targets, but there were major players in the higher echelons of crime.
Heerah asked whether the Triads can be existing here in Trinidad because of the sudden rise in Asian businesses and be utilising the "muscle" of the low-level gangster or criminal to carry out their instructions?
Heerah said law enforcement agencies must understand they are dealing with a transnational issue and therefore they must firm up their approaches and strategies from an international bearing, inclusive of intense investigative work, financial intelligence and overcoming the language barrier.
He said the Triads were a very well-oiled machine, parasitic and preyed on the vulnerability of countries with weak border control and questionable immigration armour.
In countries with large Chinese populations, a trademark of a Chinese Triad execution in the old days was to dump the naked body with the "offense" committed against the Triads written in large red Chinese characters in a very public place.
Criminologist and principal, Caribbean Institute for Security and Public Safety Ian Ramdhanie said it was safe to assume that the Chinese Triads were here.
He said they may not be involved in all of the attacks on Chinese nationals, but they were here in Trinidad plying their trade.
Ramdhanie said Triad gangs were outlawed in China and other Asian countries but had been finding ways to exist and infiltrate other borders.
He said the Triads were heavily involved in drug trafficking, money laundering, counterfeiting, illegal money lending, illegal casinos and many more illegal activities.
Ramdhanie said there was a proliferation of Chinese related activities across Trinidad, many or most of them may be legal, but there will be others that will be a front for criminals.
Ramdhanie said there was no doubt that certain members of the Chinese community were under attack. He said people of Chinese origin were being targeted, this had been increasing over the years and if not addressed urgently, the attacks will intensify.
He said he was not saying that members of the Chinese community were being targeted more than the African or East Indian community, but they were being targeted more when compared to years gone by.
Around the Web