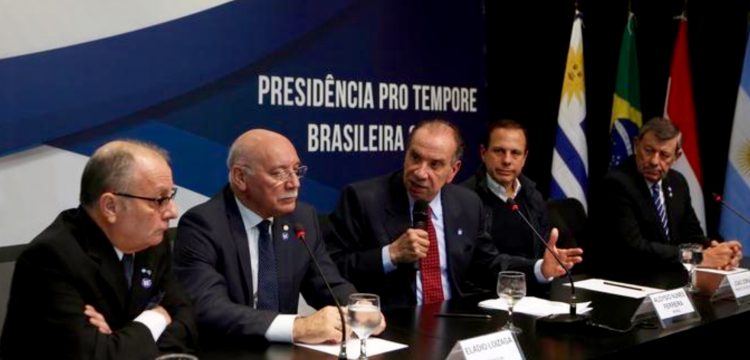 CARACAS/LIMA, (Reuters) – After months of attacking Venezuela's unpopular President Nicolas Maduro, Latin America came out strongly against U.S. threats of military action against the struggling OPEC nation.
U.S. President Donald Trump's surprise comments on Friday may give beleaguered leftist leader Maduro a regional boost, just as Venezuela was on verge of becoming a pariah.
Following Trump's comment on Friday that military intervention in Venezuela was an option, Maduro's critics are caught between backing the idea of a foreign invasion of Venezuela or supporting a president they call a dictator.
The surprise escalation of Washington's response to Venezuela's crisis came as U.S. Vice President Mike Pence was set to begin a regional trip on Sunday that will bring him to Colombia, Argentina, Chile, and Panama.
Venezela's powerful Defense Minister Vladimir Padrino on Friday disparaged U.S. threats as "craziness" and Foreign minister Jorge Arreaza said on Saturday Venezuela rejected "hostile" threats, calling on Latin America to unite against Washington.
"We want to express gratitude for all the expressions of solidarity and rejection of the use of force from governments around the world, including Latin America," said Arreaza, in a short speech on Saturday.
"Some of these countries have recently taken positions absolutely contrary to our sovereignty and independence but still have rejected the declarations of the U.S. president."
It was one of Maduro's fiercest critics, Peru, that led the charge slamming Trump, saying his threat was against U.N. principles. Mexico and Colombia joined in with statements of their own.
Regional alliance Mercosur added that it rejected the use of force against Venezuela, despite having indefinitely suspended the country last week.
Peru is negotiating a written response with other nations in the region, Foreign Minister Ricardo Luna said in a statement sent exclusively to Reuters on Saturday. The statement came the day after Peru expelled Venezuela's ambassador in Lima.
"All foreign or domestic threats to resort to force undermine the goal of reinstating democratic governance in Venezuela, as well as the principles enshrined in the UN charter," said Luna.
Peru under President Pedro Pablo Kuczynski has taken the toughest stance yet toward Venezuela's socialist government, and has openly called Maduro a "dictator".
Venezuela is undergoing a major economic and social crisis, with millions suffering food and medicine shortages, soaring inflation and months-long anti-government unrest that has killed more than 120 people.
Maduro has faced withering criticism from around the world for leading the formation of an all-powerful legislature that critics call the creation of a dictatorship. He says it will bring peace to the OPEC member nation.
The ruling Socialist Party has for years accused the United States of plotting an invasion as a way of controlling its oil reserves, the world's largest, through a military intervention similar to the Iraq war.
Previous U.S. administrations had brushed this off as politicized rhetoric meant to distract from Venezuela's domestic problems.
Under former President Barack Obama, the State Department in 2015 made quiet diplomatic overtures that led to several high-level meetings. The effort ultimately foundered as Maduro hardened his stance against opposition critics.
Venezuela's Information Minister Vladimir Villegas on Saturday tweeted a picture of the Statue of Liberty holding a machine gun instead of a torch, and a link to an article describing, "A Chronology of U.S. 'Military Options' in Latam and the Caribbean".
Comments
SAN JUAN, Puerto Rico (Reuters) – Puerto Rico's governor met with mayors from around the ravaged island on Saturday after surveying damage to an earthen dam in the northwestern part of the US territory that was threatening to collapse from flooding in the aftermath of Hurricane Maria.
DUBAI (Reuters) – Iran said on Saturday it had successfully tested a new ballistic missile with a range of 2,000 km (1,200 miles) and would keep developing its arsenal despite US pressure to stop.
(Trinidad Express) Former executive chairman of CL Financial Lawrence Duprey was ordered by a Florida judge in July to pay more than US$60 million to British American Insurance Company (BAICO) in damages in relation to the TT$1.9 billion Green Island project in Osceola County, Florida.

Residents working on their roof in badly damaged neighborhood are seen from a Marine Corps MV-22 Osprey surveying the aftermath from Hurricane Maria in St.
MEXICO CITY,  (Reuters) – Rescuers swarmed over rubble with shovels and picks yesterday in a frantic search for survivors two days after Mexico's deadliest earthquake in a generation, focusing on 10 collapsed buildings where people may still be alive.