(Jamaica Gleaner) Digicel Group founder and chairman Denis O'Brien holds the largest stake in Deep Blue Cable, the new entity that aims to string the region with underwater fibre-optic cables.
Deep Blue is not connected to Digicel, which has operations in the Caribbean, Central America and Pacific Islands.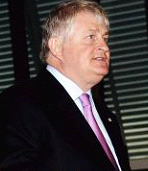 "Deep Blue Cable and Digicel Group have a common shareholder, but Deep Blue Cable has its own management team and is separate and distinct from Digicel Group," said Deep Blue CEO Stephen Scott in response to Gleaner Business queries.
That confirmation comes after it formally announced plans to lay cables across the Caribbean earlier this month.
Digicel confirmed that O'Brien was the common shareholder and also the main owner.
Deep Blue aims to fill a gap in the high-stakes fibre cable market. The company foresees that roughly half of existing cable entities will have outdated or failing technology within a decade.
"The Deep Blue Cable will be ready for service in the first quarter of 2020," said Scott, adding that it takes around four to five years to deliver a sub-sea cable system.
The company plans to link a series of Caribbean countries and Miami, but has not disclosed the size of the investment it is making. However, given the rate of spend by Digicel on a past fibre-optic project, Deep Blue may be deploying more than US$100 million in the first phase of its project alone.
Deep Blue Cable, formed in St Lucia, plans to develop and operate a fibre-optic cable network which will initially land in 12 countries, including Jamaica. The second phase of Deep Blue's development will grow the number of countries within its loop to 28 across the Caribbean and the Americas. Additionally, it plans to land the cable in select countries more than once, taking the number of landings to 40. For instance, it plans to land in Jamaica in five areas two in proximity to Kingston, two in proximity to Ocho Rios, and one landing in Montego Bay.
The main markets it wants to penetrate include Puerto Rico, which it calls a US$3-billion telecoms market opportunity, Dominican Republic at US$1.9 billion, Haiti at US$700 million, Trinidad at US$650 million, Jamaica at US$600 million, Cayman Islands at US$150 million, and Turks & Caicos at US$50 million.
The cable will initially span roughly 12,000km in the 12 markets, including the Cayman Islands, Curacao, the Dominican Republic, Haiti, Jamaica, Puerto Rico, Trinidad and Tobago, Turks & Caicos Islands and Florida in the United States. The technology deployed will include cable that has eight fibre pairs with an initial capacity of 6 terabytes per second, Tbps, and ultimate capacity of some 20Tbps per fibre pair.
Deep Blue will partner with TE SubCom to build the fibre-optic ring.
Large telecom provider CWC owns a sub-sea network that spans more than 48,000km with an additional 38,000km of terrestrial fibre, according to its website. Digicel Group holds over 3,000km of sub-sea cable in the region, which it either acquired or built, according to its website and reports.
Comments

Residents working on their roof in badly damaged neighborhood are seen from a Marine Corps MV-22 Osprey surveying the aftermath from Hurricane Maria in St.
MEXICO CITY,  (Reuters) – Rescuers swarmed over rubble with shovels and picks yesterday in a frantic search for survivors two days after Mexico's deadliest earthquake in a generation, focusing on 10 collapsed buildings where people may still be alive.

MEXICO CITY,  (Reuters) – Mexican rescuers yesterday laboured for a second night amid the rubble to save possible survivors of the country's most lethal earthquake in a generation, including a girl trapped under a school in Mexico City, as the death toll exceeded 230.
LIMA,  (Reuters) – Villagers in the Peruvian Amazon have shut down at least 50 oil wells operated by Frontera Energy Corp to protest talks over a new contract even as past pollution lingers, the leader of an indigenous federation said yesterday.

(Trinidad Express) Grandmother Haniffa Bedassie operated a mini mart in her Chaguanas community for over two decades without ever being robbed, until yesterday.