(Trinidad Express) The man who Wendy Isahark falsely accused of raping her, saved her from going to prison today.
Deonath Ramsubhag said in Court: "I forgive this lady for this. Don't send her to jail. Please, please, please, don't do that."
Magistrate Nalini Singh told Isahark that her action was grave and malicious and "one of the most horrendous things you could do as a woman." She told her that her actions diminished the public's view of real rape victims. She told her that the appropriate sentence for her act was the maximum jail term of six months.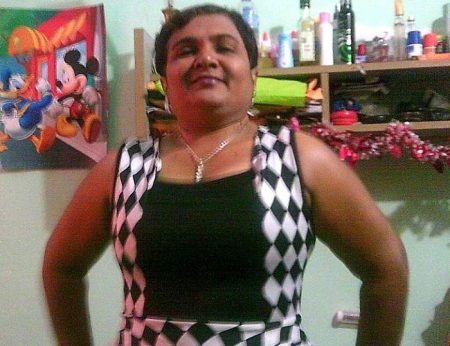 Singh however said she considered that the victim had begged for her to be spared a jail term and for her not to lose her job.
When the matter was first called Singh stood for it down for the police to have the victim Deonath Ramsubhag brought before the court.
At the resumption she told Deonath that Isahark had requested a maximum sentence indication and as the magistrate, she wanted to hear his views on the incident.
Deonath said she did made a false report against him and he was questioned at the police station. The taxi driver said he spent a night in custody and was released. He said he did not have a problem that he had spent time in custody over the allegation.
The married, father of two admitted that his reputation had been tarnished "taxi men tell me all kinda thing." He however begged the court, "I forgive this lady for this. Don't send her to jail. Please, please, please, don't do that."
Isahark, 45 of Lengua near Princes Town, faced a maximum sentence of six months and a $1,000 fine.
To this Deonath said, "no, no, no, Nothing please." In response to police prosecutor Sgt Shazeed Mohammed, Deonath said he was neither forced nor promised anything to ask for leniency for Isahark.
Defence attorney Petronilla Basdeo said the incident appeared to be a matter of the heart.
The magistrate explained about community service and said that Isahark would spend time working for the State and at the end will have a clean record. She said that this sentence would at least allow for some of consequence for the act.
Isahark entered a guilty plea after the magistrate gave the maximum sentence indication. Mohammed that said that at 8.30 p.m. on August 15 Ishahark went to the Barrackpore police station where she reported that Ramsubhag raped her at Lothians Road, Prince Town at the 3 p.m. that day.
She was medically examined at the Princes Town District Health Facility. Cpl Nanan received information and as a result told her his opinion that the report was false. She replied "Officer, I never get rape. I lie." The confession was made the following morning.
Basdeo told the court that her client, a telephone operator for the past 12 years at the San Fernando Magistrates Court, was a single parent of an eight-year-old. She said she stood to lose her job if she was convicted. "If out of employment because of a stupid mistake, he (the boy) will be deprived."
She said her client who had no previous convictions, was remorseful and willing to apologise to the police. Singh suggested the apology should go to Ramsubhag. She turned to him and said, "I am sorry." He responded, "Accepted."
The magistrate said she considered the attorney's mitigation and that Isahark had pleaded guilty and had no previous matters before the court. She also considered that Ramsubhag begged for the defendant.
She however told Isahark that she had wasted police's time and state resources during the medical examination.  Samples taken from her were sent to the Forensic Science Centre.
Singh said, "What you have done is grave and malicious. Fabricating a rape case against a man is one of the most horrendous things you could do as a woman. All he has at the end of the day is his word against yours." She also told Ishark that she had distressed the victim who was teased by his colleagues. Isahark was told that for a person who had worked in the court she should be familiar with the system and that the police resources being under strain. She said that other reports could have been investigated during the eight hours it took to record statements sand investigate Isahark's allegations.
She also said that she had many opportunities to confess but persisted with the lie and this led to Ramsubhag being kept in custody for a night and transferred between police stations. "The trauma cannot be overlooked by the court."
She also said, "What is most troubling is your actions diminishes the public's view of real rape victims. What is the public supposed to think now? Your actions have ramifications on every respect."
She told Isahhar that the most appropriate sentence was six months hard labour but she considered all the factors and "most important the views by Deonath Ramsubhag."
Isahahark was ordered to serve 250 hours of community service. She has one year to complete the order. She was told to visit the probation officer and return to court on September 21.
Ramsubhag told reporters that he pleaded on Ishahark's behave because he knew how it felt like to be in locked up and he did not want Isahark, as a woman, to face such a situation.
He said, "I wasn't worried, I knew I didn't do nobody nothing."
Around the Web