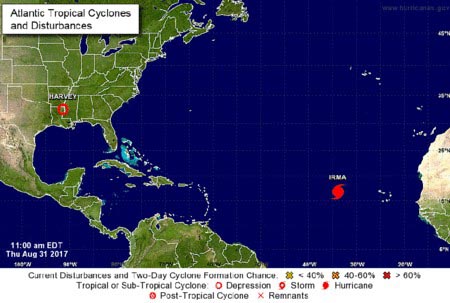 (Reuters) – Hurricane Irma yesterday strengthened into a Category 3 hurricane over the eastern Atlantic and was headed towards the Caribbean, the U.S. National Hurricane Center (NHC) said in its latest advisory.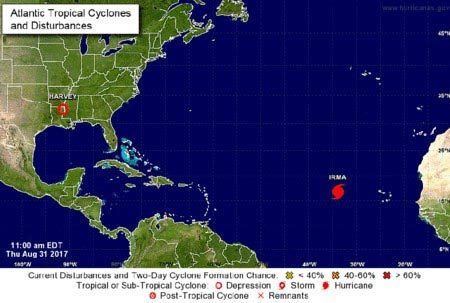 The hurricane was about 720 miles (1,160 km) west of the Cabo Verde islands, packing maximum sustained winds of 115 miles per hour (185 kph), the Miami-based weather forecaster said.
NHC forecast models were showing it heading for the U.S. territory of Puerto Rico, the Dominican Republic and neighboring Haiti with possible landfall by the middle of next week.
Comments

GENEVA,  (Reuters) – Sanctions should be stepped up against Venezuela's leaders and oil sector in response to the country's repressive political climate, the head of the Organisation of American States (OAS) said yesterday.
RIO DE JANEIRO, (Reuters) – A viral music video called "What a shot" is stirring debate in Brazil about the glamorization of crime and freedom of expression, as surging crime in Rio de Janeiro has led the government to put troops in charge of security in the tourist city.

(Trinidad Express) Ragoonanan Narine has been sentenced to a total of 58 years in prison for sexual offences against a mentally challenged child who became pregnant after one of the assaults.

(Trinidad Express) Arima accountant was killed trying to escape thieves during a robbery at his home on Monday.

(Barbados Nation) On Monday night, Adrian Rommel Griffith, also known as "Laddy", was gunned down in Belleview, Waterford, St Michael.