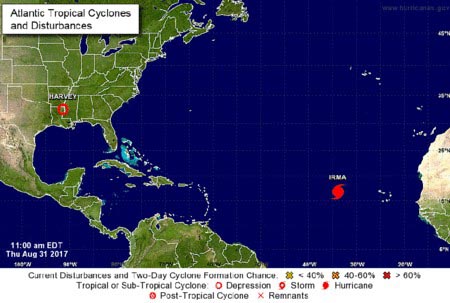 (Reuters) – Hurricane Irma yesterday strengthened into a Category 3 hurricane over the eastern Atlantic and was headed towards the Caribbean, the U.S. National Hurricane Center (NHC) said in its latest advisory.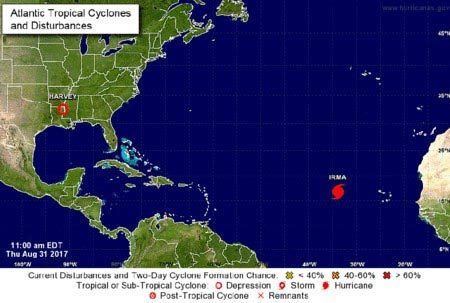 The hurricane was about 720 miles (1,160 km) west of the Cabo Verde islands, packing maximum sustained winds of 115 miles per hour (185 kph), the Miami-based weather forecaster said.
NHC forecast models were showing it heading for the U.S. territory of Puerto Rico, the Dominican Republic and neighboring Haiti with possible landfall by the middle of next week.
Comments

ARLINGTON, Va.,  (Reuters) – Negotiators at talks to modernize NAFTA are running out of time and look set to extend the remaining rounds in a bid to meet an end-year deadline as tensions rise, three sources familiar with the matter said yesterday.

(Trinidad Express) Deryck "Chicken" Hinds was shot and killed near Medine Street, San Fernando on Friday night.

(Trinidad Express) An out of control vehicle crashed through a steel bridge and plunged into the New Cut Channel River, in Woodland on Sunday.
(Trinidad Guardian) A teenager, who according to police, shot at residents of Beetham Gardens, was killed yesterday morning.
MOSCOW (Reuters) – Russia has reached a general agreement with Venezuela on restructuring its debt to Moscow, RIA news agency cited Russian Finance Minister Anton Siluanov as saying on Saturday.