(Jamaica Gleaner) Muslim Sheikh Abdullah el-Faisal who is wanted in the United States on terrorism-related charges, was denied bail when he appeared before the Kingston and St Andrew Parish Court yesterday afternoon.
In turning down the bail application, parish judge Broderick Smith, said el-Faisal could be a flight risk and there was no guarantee he would not engage in the alleged offence while on bail.
The Westmoreland-born el-Faisal was remanded until October 27.
His attorney, K.D Knight, told the court that he plans to appeal the denial of the bail application.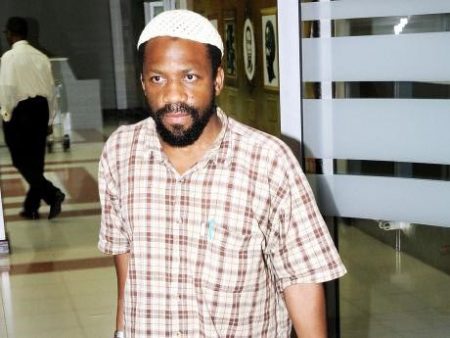 Knight further stated that his client maintains his innocence and feels all this is happening to him because of people's misunderstanding of his Islamic faith.
El-Faisal was arrested on August 25 on a provisional warrant under the Mutual Legal Assistance Treaty with the US.
He's being accused by the United States Government of recruiting persons to join international terrorist group ISIS.
El-Faisal was deported to Jamaica from Kenya in January 2010.
In 2007, he was expelled from Britain after serving a jail term for inciting racial hatred and urging his followers to murder Jews, Hindus, Christians, and Americans.
The cleric once led a London mosque attended by convicted terrorists and Britain has said that his teachings heavily influenced one of the bombers in the 2005 transport network attacks in London that killed 52 people.
Comments

UNITED NATIONS,  (Thomson Reuters Foundation) – Rich nations responsible for climate change need to help rebuild the Caribbean island of Barbuda where living conditions remain "primitive" more than two months after Hurricane Irma, Antigua and Barbuda Prime Minister Gaston Browne said yesterday.

(Jamaica Gleaner) "A suh it go, man." That was the reaction of dancehall artiste Ninja Man as he and his co-accused were led from the Home Circuit Court in handcuffs Monday afternoon.
WASHINGTON, (Reuters) – The United States will end in July 2019 a special status given to about 59,000 Haitian immigrants that protects them from deportation, senior Trump administration officials said yesterday.

(Jamaica Observer) Minister of Justice Delroy Chuck is increasing the pressure on judges to deliver judgments in a timely manner, despite criticisms that he could come across as appearing to interfere with the work of the judiciary.
(Trinidad Guardian) A and V Oil and Gas limited, through its attorneys, says any discrepancies between reported oil production in its Exploration and Production Operations and the actual production receipts at Pointe-a-Pierre is the fault of state-owned Petrotrin.