(Trinidad Guardian) Preliminary investigations have revealed that the source of the oil spill that occurred in Chaguaramas over the weekend can be an offshore rig.
This was yesterday disclosed by Minister of Planning and Development, Camille Robinson-Regis.
Speaking with the T&T Guardian yesterday at the Noor Hassanali Room of the Parliament, Robinson-Regis said company officials operating the rig are so far "being co-operative."
She said while the Institute of Marine Affairs (IMA) had been doing the "finger printing," "it appears as though the oil was spilled was from a rig."
"The IMA have already collected samples and are doing the finger printing in their investigations," Robinson-Regis said.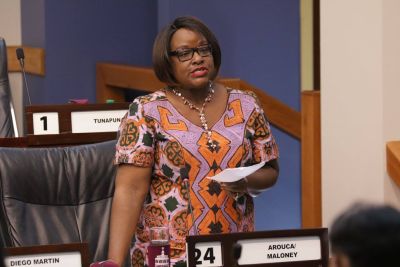 She added that the clean-up operations have been undertaken by two companies— identified as Kaizen Environmental Services (Trinidad) Ltd and Tiger Tanks Trinidad Unlimited.
However, a joint media release issued yesterday afternoon by the Environmental Management Authority (EMA) and the IMA, it said preliminary oil fingerprinting analyses conducted by the IMA on two samples collected at the most impacted areas in Chaguaramas (Point Gourde and Crews Inn), on Monday have indicated that the samples are characteristic of "bilge oil' and not crude oil or refined oil in origin. Bilge oil represents a mixture of fuel oils and waste oils present on ships.
"Based on these results, large vessels with bilge compartments for oily wastes are targeted as possible sources. An oil trajectory model is also being used to assist with identifying the likely source of the spill," the release added.
A sea surveillance exercise was also conducted following up on potential leads regarding the source of the "bilge oil," "with the assistance of the T&T Coast Guard, the team boarded two vessels in the Chaguaramas area to take bilge tank samples for fingerprinting analysis.
Additionally, samples were taken at the site of a partially sunken vessel in the Point Gourde area, in order to determine whether it could have been the source of the pollution.
During one of the key observations of a surveillance exercise conducted yesterday morning, no oily substance was found at the Cocorite Fish Landing Facility and in the waters in its immediate vicinity. No new areas of contamination were also found.
Clean up works were also done at the Chaguaramas Boardwalk, Williams Bay, Anchorage/Hart's Cut, Crews Inn Marina and Alcan Bay. Up to late last night, several crews were working on removing contaminated debris, sediment and oil soaked absorbent materials used in the clean up efforts.
No dead or oiled animals, such as seabirds or other marine mammals, were noted during the exercise. There were no dead fish at any of the surveyed sites.
Around the Web