(Trinidad Express) Soldiers have been engaged to assist other State agencies in the rescue of some 200 citizens marooned in flood waters in Woodland and Barrackpore.
Two teams from the Regiment's Engineering Battalion together with officials of the Office of Disaster Preparedness and Management (ODPM) will move the victims will be moved to shelters for three days.
A media release stated that: "The ODPM and Ministry of National Security has activated its response mechanisms and mobilized resources to assist persons in flood affected areas following this week's persistent rainfall. The ODPM continues to work closely with the Ministry of Rural Development and Local Government's Disaster Management Units (DMUs) and the Ministry of Works and Transport to render assistance to the affected communities".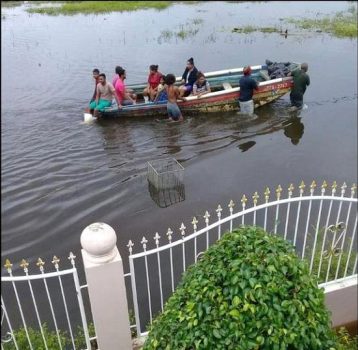 "This morning, the ODPM received a request from the Penal/Debe Regional Corporation for the evacuation of approximately 200 residents from the Woodland area and Rochard Douglas Road, Barrackpore.  In response to this request the ODPM coordinated with the Trinidad and Tobago Defence Force which has deployed two teams from the Regiment's Engineering Battalion to move the marooned persons into designated shelters at Rochard Government Primary School and Woodland Hindu Primary School for a three (3) day period. The Trinidad and Tobago Fire Service has also been deployed to assist with flood relief operations in affected areas".
The release stated that the Ministry of Works and Transport (MOWT) has mobilized manpower and equipment to treat with flood related issues in the following areas: Devenish Hill, Rio Claro Tabaquite; La Lune Road, Moruga; Brasso Seco Area; Arima Blanchisseusse Road; Paria Main Road; Couva Flyover (Failed culvert). The MOWT is also addressing several major landslips on the North Coast Road, Maracas.
Around the Web