(Trinidad Guardian) Prime Minister Dr Keith Rowley is condemning the lawlessness that took place in two Port-of-Spain communities on Thursday, and is warning criminals his Government will not tolerate anarchy.
He said criminals would not be allowed to make their own rules to create "a hell for us" law-abiding citizens.
The warning came at a joint press conference the PM held with National Security Minister Edmund Dillon and acting Police Commissioner Stephen Williams at the Office of the Prime Minister, St Clair, yesterday, a day after Beetham Gardens residents blocked the Beetham Highway and Priority Bus Route with debris and threw missiles at motorists following the arrest of two residents, while residents protested at Clifton Towers, St Paul Street.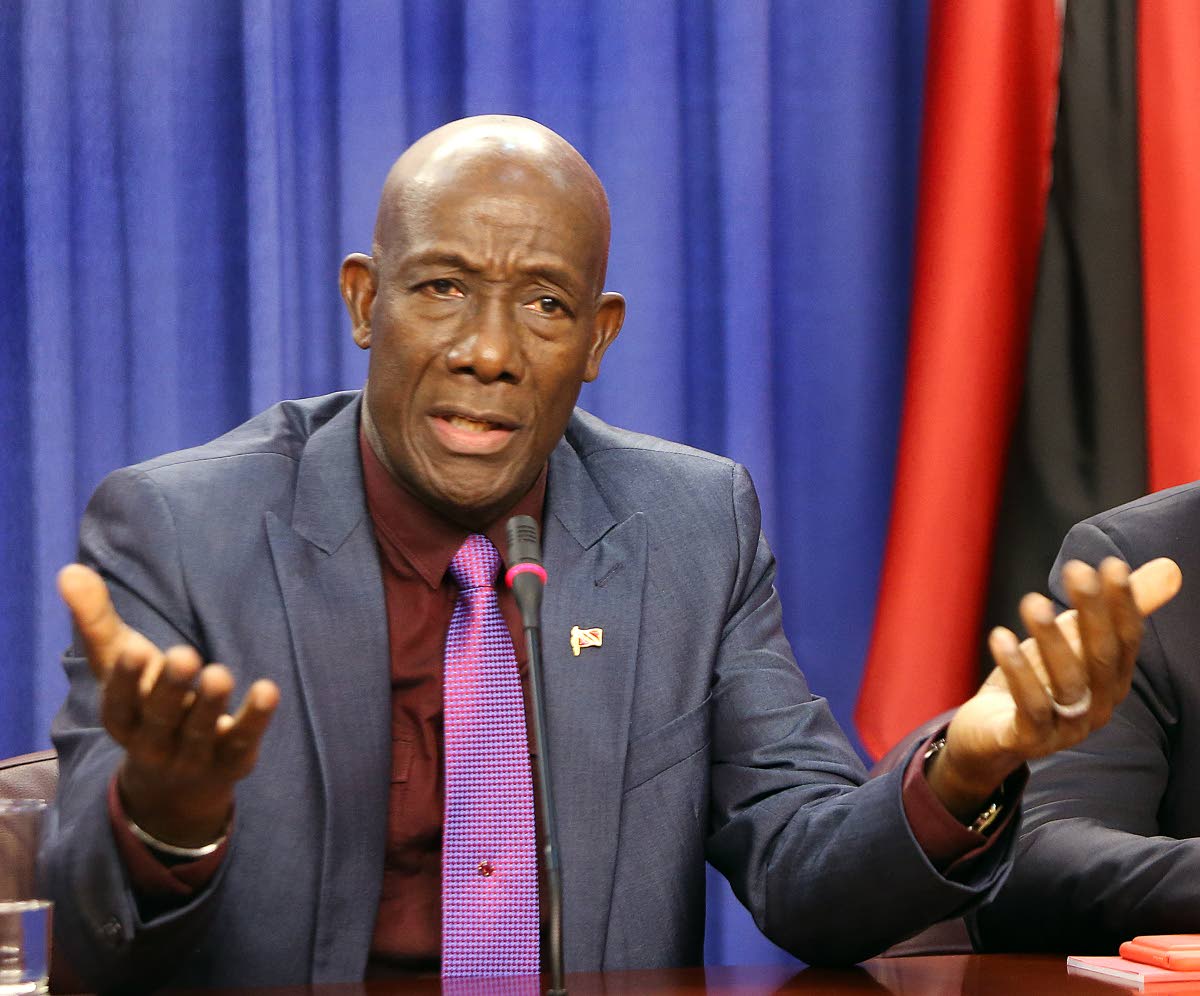 At Clifton Towers, Rowley said some home owners were chased out of their homes while others faced house invasion by people who had no respect for law and order.
The PM said the Beetham residents act had the effect of shutting down the city, terrorising those whose movements became restricted and left many traumatised and "will not and must not be tolerated by the national community regardless of the circumstances that may prevail in communities. There is no excuse for the lawlessness that we saw yesterday (Thursday)."
Rowley noted that a message was also sent that the police were not welcomed in these communities, but he said it was not feasible or affordable to put a police post in every community.
"What happened yesterday could have easily turned out quite nasty. Because if officers had reacted differently, these are people who are armed with dangerous weapons in defence of their persons and other citizens… this situation could have easily escalated to one where law enforcement officers could have resorted to that situation. And God alone knows what might have happened there."
While admitting the country has been going through difficult times, Rowley said communities that ventilate their frustrations by burning tyres and blocking roads were in a breach of the law and peace. The protective services, Rowley said, had been tolerant of such breaches up to now.
"But yesterday it came to a point where we have to draw the line. And the line is being drawn here as such."
Rowley said if these developments are being accepted as a way of life by the wrongdoers, "they will do so with impunity."
He warned criminals who have been saying to the Government "we will determine what happens and how it happens, no Government can accept or tolerate that. To do so is to succumb to a call of anarchy. And this Government will not react in that way."
He said if the disorderly behaviour was a way to deal with situations "then it means we are advocating anarchy as a way of life in T&T. And what that means is that there would be no way out of whatever difficult circumstances we find ourselves in now."
Rowley said what should be a cause for alarm was that ongoing criminal conduct was taking up the bulk of the National Security budget, and gave the assurance that security agencies will enforce the law regardless of who you are.
The PM said he had instructed Williams to seek out the wrongdoers from Thursday and the Defence Force will provide support during the round-up of these individuals. As for those who encourage others to break the law and incite violence, he said they will find no sympathy from the Government.
Around the Web