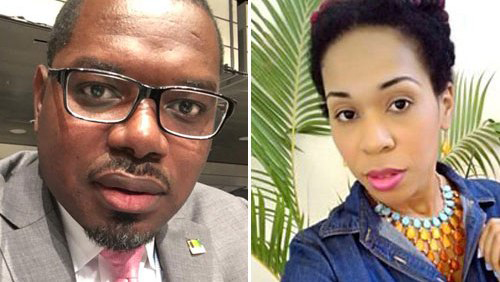 The St Vincent & Grenadines (SVG) government has recalled one of his diplomats attached to the United Nations following a report that police were called to his home in the United States after he punched his wife, also a diplomat, in her mouth.
According to an iWitness News report, Prime Minister Ralph Gonsalves on Monday announced that his government recalled Sehon Marshall, 43, a counsellor for the Permanent Mission of St Vincent and the Grenadines to the United Nations, "for consultations."
Both he and his wife, Xandra Marshall, 36, the Deputy Consul General in New York, have  been instructed not to report for work until further notice.
Multiple news reports say the man's assault on his wife occurred in the presence of her mother. The police, who responded, found Mrs. Marshall with a split and swollen lip but could not arrest her husband because of his diplomatic immunity.
The Prime Minister, according to the iWitness News report, told a local radio station that his government views the matter "with utmost seriousness and will consider all the alive legal options in this matter."
Condemning the incident, the Prime Minister said it has "denigrated into domestic violence" and that he "really regrets that this matter has happened to a young promising family, a family of great promise, including the three children which they have—ages 13 and 9 and 3—and this must be a difficult and challenging time for everybody concerned, the family and I for one. In addition to what we have to do and which we are doing as the state, I have offered up prayers for them because they are humans being which are involved, including children."
He, however, said that his administration takes a strong position against domestic violence, which he said is reflected in government policies and programmes, including the passage of the Domestic Violence Act. "So, the government unreservedly condemns domestic violence," he said in the radio interview.
He also said that the matter ceased being a private one after it was reported to the New York Police Department.
According to the news report, the incident occurred less than two weeks after Mrs. Marshall, who replaced her husband, had been appointed and even before she had signed a contract with the government. Mr. Marshall, according to the report, is the second diplomat to be recalled by SVG since 2014.
He was appointed to replace Edson Augustus, who was recalled in 2014 and fired amidst reports he had taken money from persons, whom he promised to help secure US permanent residency cards.
Around the Web