(Trinidad Guardian) Three days after alleged fraudster Vicky Boodram escaped from the Women's Prison at Golden Grove, Arouca, she was recaptured in Penal last night.
Officers from the Criminal Gang and Intelligence Unit, acting on intelligence, went to a house at Sunchine Drive off Lachoos Road, just before 7 pm. They later found Boodram, 35, hiding in the house.
Boodram was subsequently taken to the Penal Police Station where she was questioned.
A 32-year-old female occupant of the house was also detained and faces charges of harbouring a fugitive.
Around 9.05 pm, after officers had interrogated Boodram for close to two hours, she was taken away in a convoy of police vehicles.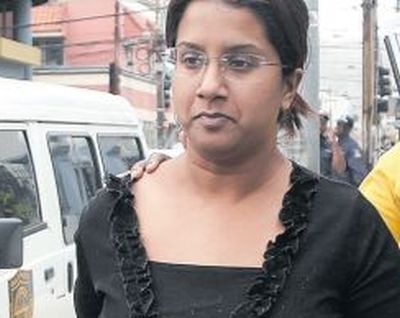 Police said residents in the area claimed Boodram was seen earlier on yesterday eating at a fast food restaurant along the SS Erin Road. A member of the public who recognised her reportedly alerted the police.
After gathering more intelligence, officers also tracked her down by tracing a cell phone signal after she tried to use a sim card previously registered in her name.
Meanwhile, a man who reportedly fell in love with Boodram is said to have assisted in her plot to escape from the Women's Prison at Golden Grove, Arouca, on Monday.
According to police sources close to the case, the two met years ago but had lost touch. However, after meeting by chance at the Tunapuna Magistrates' Court, where Boodram has some of her 175 pending cases, the two rekindled their love and kept in contact.
The man is alleged to have grown intimately closer to Boodram thereafter and frequently visited her at prison. As their relationship grew, the man allegedly could not stand to see his love incarcerated and began to devise a plan for her to escape.
Around 5.15 pm on Monday, two police officers went to the Arouca prison in a marked Nissan X-trail and presented prison authorities with what appeared to be a court order requesting Boodram appear before a Tunapuna magistrate. Sometime between Monday afternoon and Tuesday morning, someone contacted the prison and said Boodram had secured bail. The prison service became concerned when no court documentation affirming this was presented.
Boodram was scheduled to appear before both Port-of-Spain Magistrates' and Siparia Magistrates' Court on Tuesday. Her Port-of-Spain matters have been adjourned to next month.
It was alleged both Boodram and a male companion arrived at the Siparia Magistrates' Court on Tuesday, where she told a clerk that she had been granted bail and asked that her lawyer ask for an adjournment of her matter there.
Boodram, whose last known address was 34 Gambal Street, Siparia, had been on remand since March 2016 after being denied bail on an additional 39 fraud charges. She has 175 fraud matters before the court beginning in 2011.
Around the Web