(Trinidad Guardian) Vicky Boodram's father, Ramjass Boodram, was driven to make her a child star as a way out of poverty says her mother, Indra Lall, yesterday.
Three days after alleged fraudster Boodram escaped from the Women's Prison at Golden Grove, Arouca, she was recaptured in Penal on November 30.
Speaking to the Sunday Guardian, Lall said "Since I met him he was always saying how poor he was, it was getting to be a little too much. I didn't have a say, or ask a question, express my opinion on any topic on raising her. I did not want to speak out at the time, sometimes you may say something at the wrong time and cause a big explosion. I didn't want a volcano. I learned to keep my peace over the years and just look on and say nothing."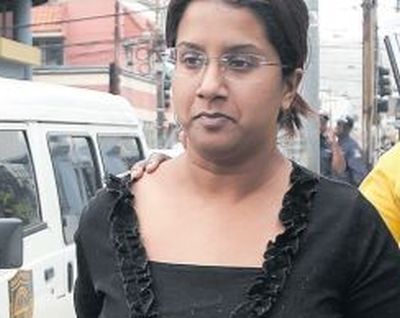 She said she accompanied Vicky when she was very little with her father to do shows at Mastana Bahar, Carrera and the women's prison where she used to dance and sing for inmates.
Lall said she would do her part as the mother but "they" were in control of Vicky.
She said it was on the rare one or two times that she went with Vicky and her father to Canada and the US for a holiday, after that it was only Vicky and her father.
Lall said she used to help Vicky with her homework up to Standard 5, then her father took over until she wrote exams as she didn't know about advanced studies and after that everything else was history.
She said she saw her daughter's potential and talent and knew where Vicky's father was coming from; he took control of everything pertaining to her.
When asked if she was mentally at ease knowing that her daughter was safe and unharmed back in custody, Lall was overcome with emotion and said as a mother it was too much to bear. She said while she did not have enemies, no mother should have to go through this ordeal.
Boodram, whose last known address was 34 Gambal Street, Siparia, had been on remand since March 2016 after being denied bail on an additional 39 fraud charges. She has 175 fraud matters before the court beginning in 2011.
Around the Web