(Trinidad Guardian) Attorney General Faris Al-Rawi has ordered a probe after a report surfaced in the United Kingdom on Sunday that a UK pollster received US$10 million from the former Kamla Persad-Bissessar administration for work conducted in T&T between 2013 and 2015.
A report in the UK's Sunday Observer, titled "The opinion poll guru, the Caribbean islands and the $10m consultancy deal," claimed the then government entered into an agreement with the founder of Mori, Sir Robert Worcester, for a consultancy agreement over a two-year period.
The article reported that in a letter to Worcester in June 2013, Reynold Cooper, permanent secretary to the then prime minister, said T&T's Cabinet had approved the fees and expenses for the core consultancy, 13 sets of surveys and seven sets of focus groups totalling US$9,793,475, plus estimated expenses of US$160,000, giving a total sum of US$9,953,475.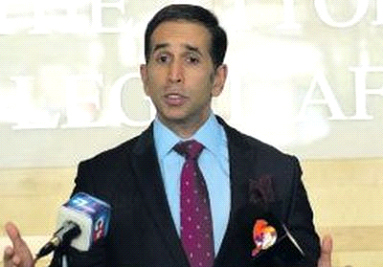 The article said a copy of the contract between the Government Information Services Limited (GISL) and Mori Caribbean, said the two-year project, a continuation of earlier work, was to improve the delivery of public services. The firm was also offered a separate contract to help the then government develop its strategic communications plan.
"Worcester, a former president of the Institute of Business Ethics, said that in 2010 he had been approached on behalf of the newly-elected prime minister, Kamla Persad-Bissessar. She wanted Mori Caribbean to continue the work it had been doing for her predecessor, Patrick Manning," the newspaper reported.
GISL, the paper said, was charged with overseeing Mori Caribbean's projects and ensuring it was paid within 60 days of the company submitting its invoices. A considerable portion of the money went directly to Worcester. On February 5, 2014, GISL instructed First Citizens to transfer $1,326,475.55 to Worcester's private account in Kingstown, St Vincent, where he has citizenship. However, Worcester insisted in the article the company was only paid US$3.2m because it did not complete the full range of services agreed.
Contacted on Sunday, Al-Rawi said he read the article "with interest," adding, "This comes as a great surprise to me in terms of an international entity's observation.
"Further this does not reside well with the posture and position taken by the UNC… in particular Rodney Charles and Mrs Persad-Bissessar have been insistent that expenditure to consultancy services outside T&T providers, including lobbyists etcetera, that these are inappropriate expenditure items.
"One therefore wonders how they could have been sitting on a US$10 million sum such as this to a pollster, so this is obviously something that is going to require some further investigation and we will produce the information for public consumption in due course," Al-Rawi said.
Al-Rawi added that while there were hints of corruption in the article, the facts must first be established.
"We must first find out whether services were actually provided or not. Whether sums were expended or not. It been a very difficult task to unmask a lot of the transaction that the UNC left. Much of it was hidden, some of the paperwork was shredded," the AG said.
"But with this one, obviously the first thing is to establish the facts and once that is established then you can have an informed view ,but this is something that obviously will be looked at."
But also contacted yesterday, former PP minister Devant Maharaj accused Al-Rawi of trying to create a political distraction, saying the firm's services were simply continued under Persad-Bissessar.
"The services were first employed under the Manning administration and on the principal of continuity of government, their services continued with no change of terms of reference," Maharaj said.
Asked if the US$10 million could be justified, he said he could not comment on this as he was unaware of the figures, but added it would have been "US $10 over five years."
"It is very mischievous that we only hear about the fees for the Kamla Persad-Bissessar administration, but the story is silent that the Patrick Manning administration had paid the fees in the first place.
"This is just a political distraction because a lot of pressure is being put and rightly so on this Government," Maharaj said.
Around the Web