(Trinidad Express) Vicky Boodram and two police officers appeared in court on Tuesday afternoon, jointly charged with fraudulently facilitating her release from the Women's Prison, Golden Grove eight days ago.
Also appearing in court was Boodram's friend Roxanne Cudjoe who was charged with harbouring Boodram at a house at Lachoos Road, Penal with intent to impede Boodram's arrest.
The court appearances before Acting Chief Magistrate Maria Busby Earl Caddle in the Port of Spain Magistrates' Court was the culmination of a week of drama that continued into this morning, when Boodram had to be taken to hospital to be treated for a bloody wound to a wrist.
Boodram, 35, appeared in court with a bandaged wrist, and representing herself. But she gave no explanation when asked by the magistrate whether she wanted to make any complaints about the injury.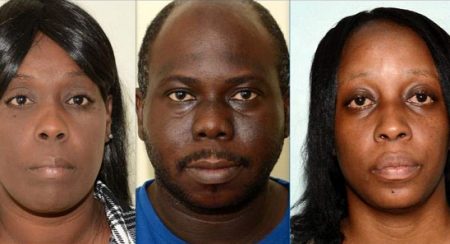 Cudjoe was the first to appear on the indictable charge of harbouring Boodram.
The police prosecutor said that since Cudjoe was only charged yesterday afternoon, no criminal background trace was available.
As a result, bail was denied Cudjoe who was remanded in prison custody and ordered to reappear in the Siparia Magistrates' Court on Wednesday when bail would be considered.
WPC Lisa Navarro, and Constable LeVon Sylvester appeared before the court jointly charge that on November 27 at the Women's Prison, being public in public office, they misbehaved in public office by uttering a forged Judiciary note thereby facilitating the unlawful release of Boodram.
The Police prosecutor said that since the officers were only charged this afternoon, but since they were police officers, they would have no pending criminal charges and as a result, there would be no objection to bail.
The two police officers and Boodram appeared jointly charged with dishonestly and fraudulently aiding the procurement of Boodram,who was then a person remanded in the lawful custody of the state at the Golden Grove Prison, in escaping from the said prison, contrary to common law.
Boodram was denied bail after the police prosecutor said the matter released to her alleged escape and the State was not willing to agree on bail being considered.
The matters were adjourned to December 13 to be called at the Arima Magistrates' Court.
Boodram was asked by the Magistrate that since she was representing herself whether she wanted the Court to take note of any complaints.
Boodram said her fraud cases dated to 2011 and were still pending. She was stopped by the Magistrate from speaking on the issue and instead register any complaints. She had none.
Around the Web