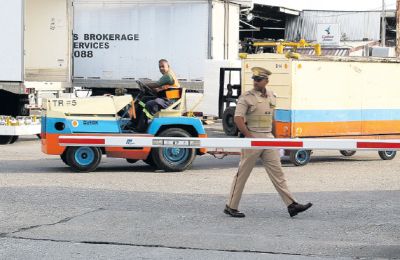 (Trinidad Guardian) Police were last night questioning seven people in relation to a multi-million dollar robbery at the Piarco International Airport yesterday morning.
The well planned and orchestrated hit targeted a First Citizens' bank load of $5.5 million which was being sent to Tobago via Caribbean Airlines, and took place mere metres away from the Piarco Police Station.
Police said the bandits struck at 11.25 am at the cargo loading area along the Golden Grove Road, Piarco, as the money was being transferred from an Amalgamated Security vehicle to be loaded onto a plane. An airport security reportedly stopped the Amalgamated officers from completing the loading process onto a cargo bin due to a security concern. This period allowed four masked men armed with high-powered rifles and dressed in army fatigue to exit a heavily tinted Toyota Hilux pick-up, licensed TDN7020, and order those around onto the ground. The gunmen then loaded the cash onto the pick-up, which was parked on the compound before the Amalgamated van arrived, and escaped with the loot.
The getaway vehicle was later found parked at Building 1A, Oropune Gardens, Piarco, about an hour after the incident – meaning it would have passed by the police station on its way there. Residents said the lone occupant at the time left the vehicle on and the door slightly opened and escaped in a waiting car. By then, the money had already been removed from the vehicle. Residents said after noticing the engine was left on they contacted the police, who responded.
Police said on hearing of the robbery, officers of the Central Division conducted road blocks but were unable to apprehend the culprits.
Police said it appeared the culprits had some knowledge of the security mechanisms in place for the cash cargo.
A media release from the Airports Authority of T&T yesterday confirmed the robbery, adding officials were working with police to solve the crime.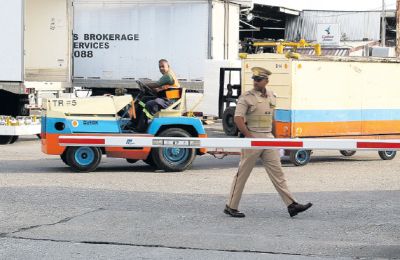 In a release yesterday, FCB head of Brand and Marketing Larry Olton confirmed the bandits hit just as the money was being transferred from the security of the armoured vehicle to the Airports Authority personnel to be loaded onto the plane.
Also commenting on the incident, First Citizens Group CEO Karen Darbasie said: "The incidences of crime appears to be on the rise, and has indeed reached alarming levels. Too often now we are seeing what appears to be planned and organised criminal activity, targeting businesses, including banks. This last incident seems to be no exception. This calls for greater vigilance on the part of businesses, the TTPS and all stakeholders, and First Citizens is taking further steps to ensure the safety of our people, our customers and their assets, under the circumstances and in this current environment."
She added that First Citizens officials are assisting police with their investigations.
This was the second high profile multi-million robbery targeting bank money in recent years.
On November 27, 2013, a Sentinel van was robbed of $17 million and US$150,000, representing money from several banks, as it was being transported along the Churchill-Roosevelt Highway to the airport around 4.30 am for a flight to Tobago. During that attack, 59-year-old veteran security officer Bert Clarke was murdered. His death and the robbery remains unsolved to date.
During that incident, the Sentinel van was rammed from behind near the Trincity Industrial Estate by a blue Ford Ranger which was loaded with bags of cement in the rear seat. The occupants came out shooting, killed Clarke and took the cash, leaving behind a petrified driver. After grabbing the loot, the bandits escaped in a white SUV which was later found abandoned near Millennium Park, Trincity, and another getaway car, a Nissan Almera, was later found. All three vehicles were reported stolen.
First Citizens has also been targeted on more than one occasion in recent months. In late November, thieves attempted to steal cash from an automated teller machine (ATM) at its Arima branch, but were unsuccessful as the machine had no cash. On September 24, using power tools, bandits entered its Montrose, Chaguanas branch, cut a hole in a vault and made off with $3.5 million. Another attempt was made some days later at its Carapo ATM, but the thieves left empty handed.
Questions emailed to FCB on how the bank intends to improve security were not answered up to press time.
Comments

(Trinidad Guardian) In the face of allegations of fraud and misconduct before a US Supreme Court against him, National Security Minister Edmund Dillon doesn't believe he needs to step down although he values his integrity.Dillon yesterday admitted he is a party in a civil matter in the New York Supreme Court, in which he is accused of defrauding an elderly man, Neville Piper, of a valuable condominium in Manhattan.

BOGOTA,  (Thomson Reuters Foundation) – Indigenous women from Ecuador's Amazon rainforest have called on the country's president to end oil and mining projects on their ancestral lands, as the nation pushes to open up more of its rainforest to drillers.

LIMA, (Reuters) – Peru's new President Martin Vizcarra urged justice officials yesterday to act swiftly and join him in a fight against corruption "at any cost," two days after his predecessor was toppled by a sprawling graft scandal.
LONDON,  (Reuters) – Investigators from Britain's data watchdog yesterday searched the London offices of Cambridge Analytica, the data analytics firm at the centre of a storm over allegations it improperly harvested Facebook data to target U.S.
TREBES, France,  (Reuters) – A gunman killed three people in southwestern France yesterday as he held up a car, fired on police and seized hostages in a supermarket, screaming "Allahu Akbar" before security forces stormed the building and killed him, authorities said.