(Trinidad Express) A man whose female friend was found murdered last year and whose wife disappeared two months ago has also gone missing.
Police believe that Reagan Ramdhan may be dead and a search on the east coast yesterday turned up the bones of two separate people.
The identities are unknown.
Ramdhan was last seen on December 2 leaving his home at Shirvan Drive, Sangre Chiquito.
He left driving his black Toyota Hilux at 2 p.m. He was later reported missing by his mother-in-law Radica Lobai.
That night around 11.30 the vehicle crashed into a wall at Union Village, Mayaro, and two men were seen running from the scene.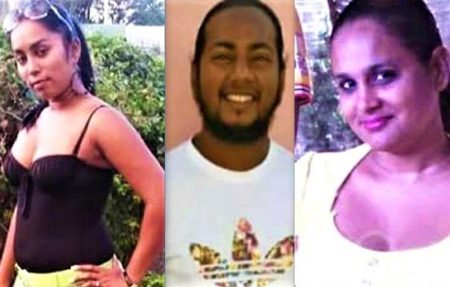 Police impounded the vehicle and searched for evidence.
Investigations led police on Wednesday night to arrest three people – two men and a woman – in a house in Carathal Road, Biche.
The woman was released shortly after police said.
On Thursday and Friday a combined team of officers of the Sangre Grande, Biche Stations, Mayaro and Rio Claro stations, Canine Unit and Homicide Region II began combing several areas in Biche in search of a body.
The officers retrieved the bones at La Salle Road and they were sent to the Forensic Sciences Centre for forensic examination.
Ramdhans friend, Felicia Persad, 29, was killed in April 2016, and her body found wrapped in plastic submerged in the Mitan River.
Persad went missing one day after work at a boutique in her Sangre Grande hometown.
She disappeared shortly after she had obtained a protection order as a result of an abusive relationship.
And in October, Kamala Dindial, Ramdhan's wife, went missing. She has not been heard from since.
Comments

(Trinidad Guardian) A domestic dispute yesterday turned deadly for a 27-year-old woman, after she was stabbed in the neck by her lover in broad daylight at the Croisee in San Juan.

LIMA,  (Reuters) – Peru's center-right President Pedro Pablo Kuczynski announced his resignation yesterday after a vote-buying allegations ensnared him in a fresh scandal on the eve of an impeachment vote, capping months of political turmoil in one of Latin America's most stable economies.
CARACAS/BEIJING,  (Reuters) – China is likely to extend an agreement providing crisis-stricken Venezuela with favourable loans repayment terms but will not lend fresh funds to President Nicolas Maduro's government, according to sources in Caracas and Beijing familiar with the situation.

(Trinidad Express) The woman beaten to death with a brick in Mayaro on Monday night was eight months pregnant.
CARACAS, (Reuters) – Opposition presidential candidate Henri Falcon's campaign vowed yesterday to implement a $25 monthly giveaway to Venezuelans, as part of plans to dollarize the crisis-hit economy and alleviate suffering should he win the May 20 vote.