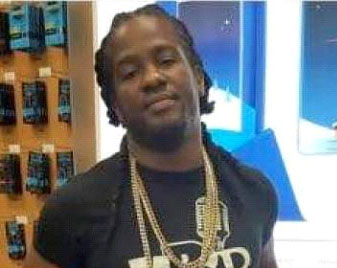 (Jamaica Observer) Jamaica's music fraternity is again in shock following the murder of one of its members. Record producer Cleon "Mineral Boss" Jones, 37, was shot and killed on the Caymanas Estate Road in St Catherine on Tuesday morning.
According to the Jamaica Constabulary Force's information arm — Corporate Communica-tions Unit — residents heard explosions at 9:30 am and called the police. Jones' body was found with multiple gunshot wounds. He was pronounced dead.
A female companion was also shot and injured. She was taken to the hospital for treatment. No motive has yet been established for the murder.
Jones founded Mineral Boss Records over a decade ago and produced a plethora of songs including Mavado's 2016 hit Progress. The single was featured on American producer DJ Khaled's Grammy-nominated Major Key album.
The producer worked with a number of artistes including I-Octane, Chuck Fenda, Jahmiel, Konshens, QQ, Richie Spice, and Anthony Cruz. The last recalls the friendship he shared with Jones which spanned several years.
"Mi know dem yute deh from Fifth Element days. Mi always a try show him righteousness and we always go river and pray. I always encourage him in music. It is so sad; one day you're here and the other day you're gone," said Cruz, whose single Little Country Boy was released on Jones' Mineral Boss Records.
"We just have to continue to move in a positive light and campaign against crime and violence," he told the Jamaica Observer.
Richie Spice recorded Babylon Burning on Jones' label. He was saddened to hear the news of the producer's death.
"He was a good yute and he was always very joyful. He was progressive and he was doing so well. I was so sad to hear it," he said.
Jones' history with music started as a teenager at White Marl Junior High School in St Catherine.
In an interview with the Jamaica Observer in March, Jones shared his vision for his most recent rhythm Street Knowledge.
"Our thrust is to promote positive music, highlight the best of the best, and give a voice to up-and-coming artistes who need that push," he said at the time.
Jones' death comes one month after producer/deejay Donovan "Unicorn" McMurray, who was shot and killed in the Crescent Road area of Kingston 11. Two weeks prior, producer Ralston "Tru Blue" Wellington suffered the same fate on October 27 in the Maxfield Avenue area of Kingston.
According a recent World Bank report, at the end of September 2017, more than 1,150 murders were recorded, making Jamaica the fourth most murderous country in the entire world.
Around the Web