(Trinidad Guardian) A 62-year-old mother of five walked out the Sangre Grande Magistrate's Court a free woman on Friday after 12 years and six months awaiting trial.
Ingrid Durity, of Valencia, who was jointly charged with the unlawful killing of nine-month-old twins Tylin and Tyler Campbell, of Valencia, expressed relief as she walked out of the Sangre Grande First Court.
Durity's trial came to an abrupt end on Friday after her attorney Jerry Holder made a no-case submission to Senior Magistrate Debra Quintyne.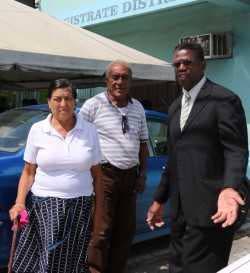 The charge was laid by Insp Christopher Fuentes, who at the time of the incident in 2011 was a corporal.
Holder, in his submission, told Quintyne that at no time did his client have the duty of babysitting the twins.
Quintyne agreed on the no-case submission and discharged the case of unlawful killing, freeing Durity.
The twins, who were both US citizens, were reported to have drowned in a bathtub while being given a bath by their six-year-old relative at their Casaurina Boulevard, Valencia home in 2011.
Another woman charged in the case is still on trial.
Around the Web